Those are the words from the late VW TRENDS number 4...
B
elow is the complete article from that cool old issue.
"A
in't no big thing has a unique history behind it. The car was first built for road racing, and was actually a class winner at Santa Barbara in 1965. The car was driven by
Alan JOHNSON
. After its retirement , No big thing was left in a wrecking yard when
Bill YATES
found it in 1970 and bought it to completely rebuild, this time for slalom.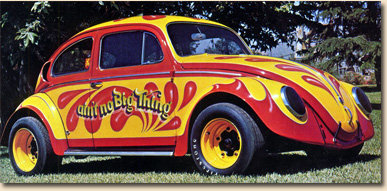 Porsche drums replace the stock VW ones & the wiiide wheels are 8X13...
T
he car is a 1958 sedan, running a Porsche 1800cc engine.
Bill YATES
has over $7500 in rebuilding the car, making it a class winner. The car was a winner in most events entered including four overalls at Bug-in 1. This was followed by three moe slaloms wins at subsequent Bug-ins.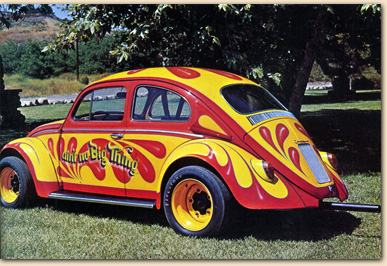 Note Porsche grille used on decklid... A very neat touch on such a car...
T
he car was a consistent class winner in slaloms and time trials entered. We happenened to come accross the car while photographing Mike MARTINEZ's chop top. The Martinez shop had originally painted the car its wild yellow and orange, and it was in one more time for touch up.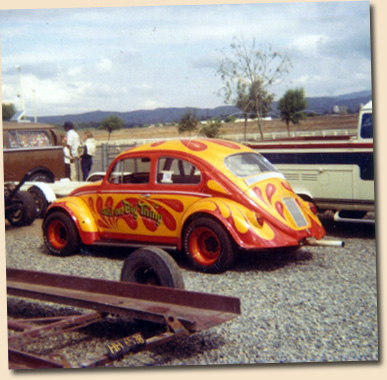 Very cool photography from Bug-in courtesy of Bob HOFFELD.
B
ill has retired the car."