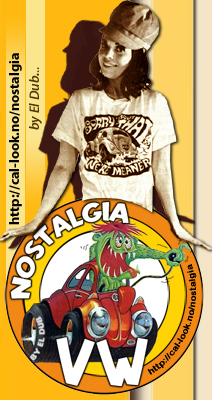 El Dub's Nostalgia corner.

Meetings, cars...

Treasures from the past.

Memories, people, meets.

H/Gas, I/Gas...

EMPI, Auto-Haus, R/S...

Events, People, Memories, Cars...
Bug-Ins : W

ithout a doubt,

Bug-ins

meetings concept is the big daddy of all VW event held all over the world... Bug-in concept was simple : Car Show, Drag racing, Slalom, Queen contest...

B

ug-ins story began the 20th October 1968 with Vic WILSON first edition ever (don't forget to read the period writings section for a complete advert...) which was an instant success among the buggistas (the buggy owners as they were called). Bug-in 31 was the last edition held on 9th october 1983 who saw nearly 10.000 visitors and 1.000 entrants. Crazy...

E

ach meetings was held at the Orange County International Racetrack (OCIR), the legendary california racetrack which unfortunately closed his doors on the sad day of 30th october 1983...
Been there, done that! A look at the people who have helped to shape the industry. Lee LEIGHTON : L

ee LEIGHTON is surely today one of the most respected guy in the VW racing world. Not a surprise as Lee is still involved today after some 40 years of racing and building high performance engines for the VW. Lee deserved a special section on this nostalgia corner no? Read on the full story and understand why.

Glenn MILLER : G

lenn, a self-described "gearhead," was a Drag Race Photographer from 1958 through 1973. Glenn spent most of his time during those years at numerous - and now legendary - tracks in the Southern California area, including: Colton Drag Strip, Riverside, Pomona, Fontana, Carlsbad, Orange County International Raceway, Bakersfield, and Irwindale. During this period, Glenn was also a photographer with the Inch Pincher Crew!

Dean LOWRY : D

ean is without any doubt the true godfather of VW performance... His work and involvment making the tiny VW engine running hard and strong made Deano one, if not the most respected guy as far as VW performance is concerned! Sadly, Dean passed away to early in 1999... Dean, we miss you! So here is a little tribute for the newbie to learn who was Dean and respect him as much as he deserve it!
Memories of the early days...If you have any to contribute, please let me know.

Inch Pincher :

Close Encounter...

by Dave CORMACK

Pincher Banter :

Ever hear of a Rabbit rod stroker?...

by Glenn MILLER

Datsun GTVs ? :

When VW started to give Joe Vittone crap...

by Glenn MILLER

Porsche Clutches :

Once upon a time in 1966...

by Gregg BUNCH

Flushing Toilets :

Dean Lowry built the Gurney car...

by Glenn MILLER

Backwards 1/4 Mile :

The DKP used to have their Drag Days...

by Ed CRAIG

So Cal. :

Southern California VW Club Memories...

by Ed CRAIG

Want to share some old memories... Email me...
An inside look at some of the most significant cars in the past thirty years. Ed CRAIG '51 : O

ne of the most influencing VW of the seventies is this split window sedan which belonged to Ed CRAIG! This green split was a real masterpiece and one of the very first real cal-look car. Unfortunaltely, it was never really focused back in the days... Time to put it in the spotlights...

Frenchy DEHOUX '67 : D

octor Detail Ghia was one of the best engineered car at Bug-in in the late 70's... Attention to detail and good stance made this Ghia a instant winner. Thanks to guys like Frenchy, Ghias are now welcomed to The Look...

The ARONSON / HOLMES '63 : W

ithout a doubt, the Aronson built white '63 bug will stay in memories as the first real Cal-Look car ever... In fact, that's one of our favourite car ever. This special car saw the beginning of a new era as far as customizing VWs are concerned...

Dean KIRSTEN '67 A

nother car that sure desserve a special attention was Dean KIRSTEN awesome '67 blue bug. It was period perfect and show the Cal-Look style in all its glory...
---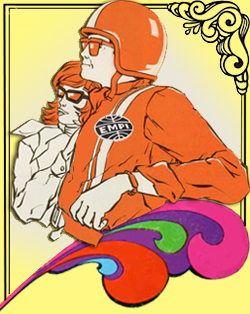 A FRENCH TRIBUTE
TO THE PIONNEERS OF VW DRAG RACING
---