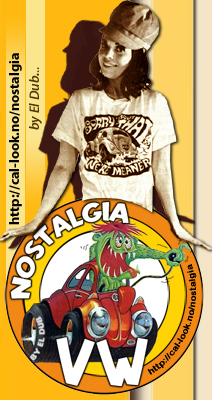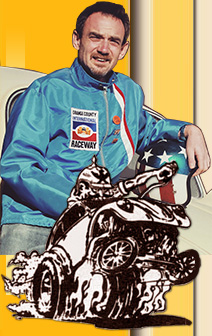 - El Dub's NOSTALGIA VW Corner -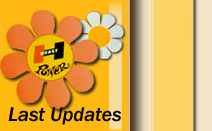 25/03/22
EMPI Baja...

31/01/22
Don Burns...

01/12/21
Rick Harris Custom...

23/03/21
Freeway Volkswagen...

05/03/21
Stutt Bee updated...

05/03/21
Mad Pineapple

22/03/20
Centipede...

12/08/14
Hot Rod Industry news...

01/01/14
Schley bros...

21/10/13
Rickie Mc Garity...

28/02/13
Glass Wag'n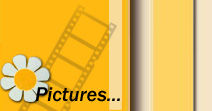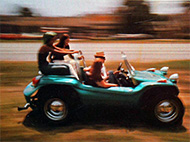 Nostalgia buggy...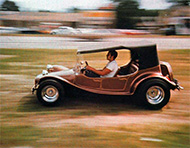 Nostalgia buggy...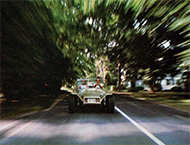 Nostalgia buggy...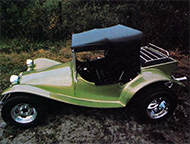 Nostalgia buggy..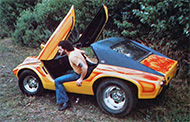 Nostalgia buggy..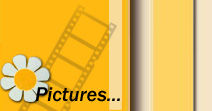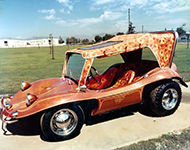 Don Haskin Bushwhacker
Dune buggy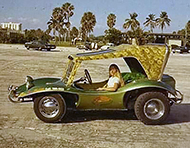 Don Haskin Bushwhacker
Dune buggy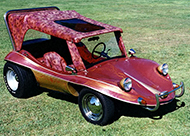 Don Haskin Bushwhacker
Dune buggy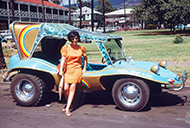 Don Haskin Bushwhacker
Dune buggy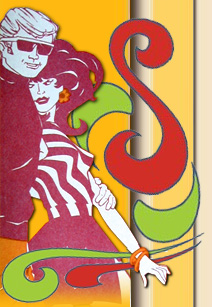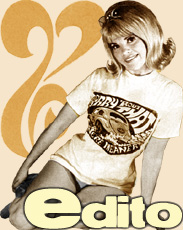 EDITO :
W
ell, BenJ and I are so enthusiastic regarding this little Nostalgia corner that we managed to post an unexpected update about a way too forgotten special beetle from EMPI :
the BAJA special edition
. Read on the full story and we hope that it will give you some ideas to revamp your Super Beetle at very low cost...
A
lso, do not miss the never seen before pictures of the
CAR CRAFT EMPI IMP
buggy somewhere on this homepage. If you ask me, this is the greatest IMP buggy I have ever seen. Painted by the late GORMO, this is pure Nostalgia stuff the dreams are made of...
O
n a more personal point of view, I will be very busy in the next few weeks working on my current Custom 70s bug project knowing that EBI is just around the corner... Clock is tickling...
W
ell, as usual, enjoy this little update and BenJ and I are hoping to see you soon on the next show :-)
El Dub - 25 March 2022.
THE ONLINE NOSTALGIA CHAPTER...

DON BURNS... Airmighty #43

W

hat about another Airmighty Nostalgia chapter online guys? Here it is with the famous

Don BURNS

dealership story that I wrote a while back for Airmighty #43...

Y

ou will not believe a VW dealership was so dynamic in promoting the little bug back in good old days...



We all devote a real passion for anything EMPI right? EMPI GTVs are our all-time favourite special edition bug (Note for myself : I definitely have to update that GTV section...). Those EMPI bugs appears to be the real deal for many of us, and in fact, they are...

But there is another EMPI special car from the very early 70s that would deserve a little more love these days : the EMPI BAJA series : 500, 1000 and 1000S.

If you dream of building your own EMPI period correct replica bug, I think this is a great path to follow as it would be far easier than building a complete GTV ... Look : some genuine EMPI parts there and there, side BAJA stickers and a stock US red, yellow or white sedan and you're done...

I think time has come for a better look at those different EMPI bugs and the story behind.

THOSE CUSTOM 70s VWs... RICK HARRIS CUSTOM PAINTING!!!
W

hat better way to update that special Custom 70s section than focusing on period machineries built with custom paintjob in mind... I mean not the wild paintscheme but mild psychedelic and groovy paintjobs smelling the seventies... My teammate

BenJ

found awesome never seen before pictures of brand new bugs all painted in the early 70s by a very talented young guy :

Rick HARRIS

. We think you will enjoy those old pictures and maybe they will be a great source of inspiration for your own bug project...

More...
NOT JUST ANOTHER NOSTALGIA CORNER EXCLUSIVE...
W

e all knows of Inch Pincher, Inch Pincher too, Inch Pincher of NY, but, honest, how many of you have already heard of another EMPI Inch Pincher? I was the very first surprised to discover pictures of that unknwown

Inch Pincher Jr

...

I

have no details except the pictures here... One thing is for sure after some research... This oval was built and campained on the H/G on Georgia dragstrips and should have raced in the late 60s. Talk about a good start... My two cents : this was a demo race car for the Georgia EMPI dealer shop.

N

ote the one of a kind BRM rims paintscheme!

I

s anybody there who knows a little more?
BIG ED KNIGHT FREEWAY VOLKSWAGEN...

ED KNIGHT FREEWAY VOLKSWAGEN...

T

here was a time when anything was possible as far as performance VW was concerned on american racetracks! We often refer at the good old days... Those times have seen many one of a kind machineries looking for the

fastest Volkswagen of the world

title...

Ed KNIGHT FREEWAY VOLKSWAGEN

bug, with his 3.5 pounds per horsepower ratio and its lighweight tube frame, helped by its full fiberglass body, was one of those crazy cars...

More...

THE REVELL INCH PINCHER Too
I
compiled the first part of the EMPI Inch Pincher story some time (ok, years ago...) and I still need to complete the race car section... But considering Inch Pincher pictures are now everywhere on the Internet, I changed my plans, and decided to add a space for a long time forgotten Inch Pincher : the Baja EMPI one.
T
his very special car doesn't catch the attention it deserve today! After all, it's a period EMPI Inch Pincher car
too
... So have a look at the section I put together and enjoy those rare pictures and facts! Only at Cal-Look.com ;)
A
s usual, enjoy your reading as much as I did compiling it!

More...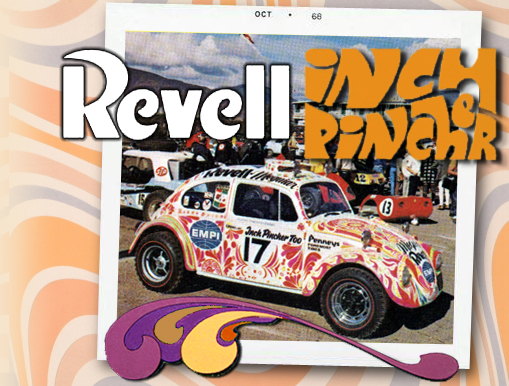 AUGUST 1968 HOT ROD INDUSTRY NEWS...
W

e all are collecting old VW magazines. We all knows of the famous VW magazines from back in the days. We also knows of the US cars magazines that sometimes focused on racing VWs on their cover... Usually, those Hot Rod, Popular Hot Rodding or Drag Racing USA are very collectible. But did you know that the great Hot Rod magazine, seeing the ever growing popularity of the little bug, made a VW special issue of its

'Industry News' called 'Small Car / Big Market'

back in 1968?

T

hat special issue is full of interesting period facts and that cover is awesome with its full custom bug and the EMPI Inch Pincher side by side. I found that uncommon magazine some years ago and thought it would be cool to share some of its contents here!

More...

MARK & PAUL SCHLEY :

I

f some of you missed issue #11 of the great Airmighty magazine (shame on you...), here is your chance to read the first part of the interview of

Mark & Paul SCHLEY

I made earlier this year for the magazine, along with some never seen before pictures coming from the SCHLEY private collection only for your viewing pleasure, as usual.

E

njoy your reading as the story reveals unknown facts and memories and don't forget to share where you read it.

Btw, if you want to enjoy it everywhere and support our hobby, order your hi-class paper issue at

www.airmighty.com/

.

More...
GLASS WAG'N STORY :



A

nother Old Racers section...

W

e all know the most famous VW racers from the 60s and 70s in every details. We also have high respect for their builder & driver... Those guys were pioneers for us all... But some very early cars & owners are still unknown... Take the

Glass Wag'n

for example...

O

f course, it's a one of a kind bug because of its all fiberglass body and we already all found pictures on the Internet, but how many are aware of the interesting story behind?

More...

HERE COMES DA BUG!!!



A

t least... At least... After a way too long wait, that

ANDERSON Bros

section is now online! Such a tribute should have been made many years ago as

Here Comes Da Bug

was one of the most successful gassers back in the days, but I was needing more material to make an informative section.

Rick & Ron

themselves were sooo enthusiastic about my plans that I just kicked up my ass one more time and here it is : the very first part of that legendary gasser history!

E

njoy it and THANKS R&R ANDERSON!

Y

ou are OUR heroes!

More...

THE STUTT BEE BUG!!!



Another Old Racers section...

The Stutt Bee section hit the mainpage again... This is great news as Audley CAMPBELL bee still is one of my all-time fav early gasser...

If you didn't visited it before, here is your chance to read the full story behind the very first Stutt Bee, with some added pictures to feed the regular visitor of this website...

Spread the word : only on the Nostalgia corner!

SAL FISH EMPI IMP

I

've been looking for infos about the awesome

GORMO trick painted

Car Craft EMPI IMP buggy for a long time until I found recently some period pictures with a very proud

Sal FISH

behind the wheel.

I

f you are into the Baja races, that name sure sounds familiar as Salvatore was owner of SCORE International, the sanctioning body for the world-famous SCORE Baja 500 and Baja 1000.

S

al used to be Car Craft magazine publisher back in the days and this buggy built with EMPI sure attracted a lot of attention.

HOT ROD SEPTEMBER 1970...
B
ack in September 1970, the famous HOT ROD magazine made a special buggy issue with a cool
'Roadsters for the 70s - Buggies : new generation of street roadsters'
title and an equally cool picture cover with 3 different stylish buggies on a typical californian suburb.
O
f course, any sharped eye will recognize the Berry Mini-T and... the yellow GORMO painted EMPI IMP on the left... But what happened to the Car Craft lettering? I have to admit it's a mistery... But it's clearly gone... Let's play the 7 mistakes games : the EMPI seats covers are gone, the rear licence plate light housing is now chromed, and roof push buttons were added on the fiberglass body...
W
ould you believe that I have found some period pictures of the revamped IMP? I think that the
Eric RICKMAN
pictures below are from the very same day of the colored HOT ROD cover picture... Enjoy...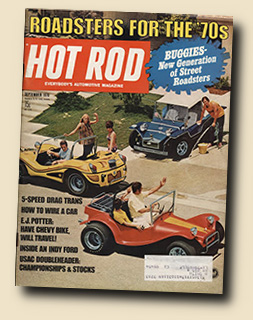 I thought it might be a good idea to keep you posted 'bout what's coming in next few... months......



EMPI : EMPI GTV

70s CUSTOM : Traditional

OLD RACERS : Wunderbug


---
Copyright 2000 - 2022 El Dub - All Rights reserved.

E-mail : eldub@cal-look.com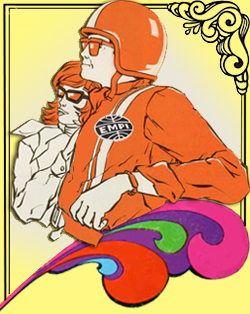 A FRENCH TRIBUTE
TO THE PIONNEERS OF VW DRAG RACING
---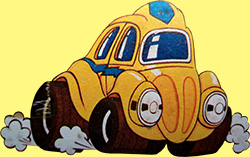 With this update focusing on the 70s Customizing, I thought it would be a great idea to put some very nice VW groovy machines on the front page...

Kent COLLINS
was a teenager when he customized that '64 bug way back in 1977. My teammate
Ben J
recently entered in touch with Kent who remember using most parts from junkyard and recycler. We are not big fans of using US cars lights on fenders bug (Chevy Vega taillights & Pontiac headlights in this case), but that car sure capture the spirit of Customizing a bug in the late 70s.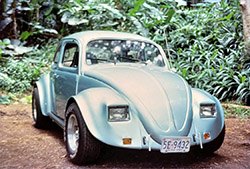 Those fiberglass fenders shape is just perfect...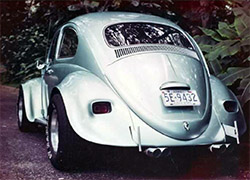 ... Even from a rear point of view. Note the Monza exhaust.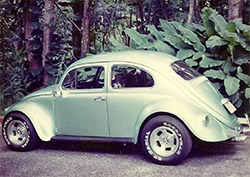 Good'Year GT RADIAL tires and Chevy slot mags rims are definitely a perfect choice...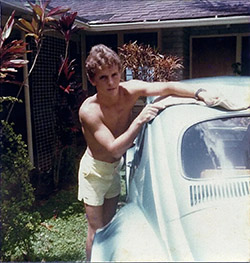 A proud young Kent cherrishing his one of a kind creation.

Just some never seen before amazing typical 70s Custom bug pictures coming for the Petersen gold mine photobook... Enjoy...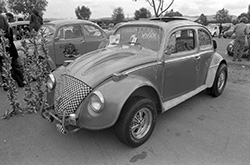 This is a well-known custom brown & yellow bug, but a rare front picture.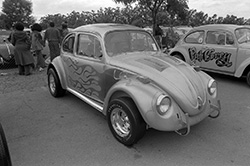 Typical Custom stance on this pristine flamed example. Note the rare rear scooped quarter windows...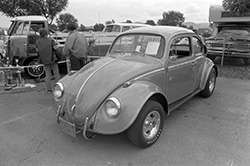 We eventually see here a 'simple' Custom... Nerf-bars were mandatory...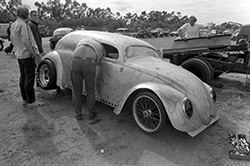 Not a traditional Custom in my book but a rather uber cool top chopped wild machinery from the good old days...

Let's start with some Custom racing on the 1/4 mile at the OCIR Bug-in on the front page... Yes, those bugs were racing also, even with those big fat front tires ;-)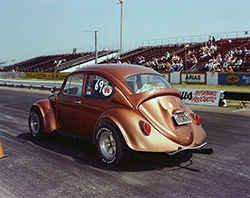 And what about that mega cool brown Bug? A perfect example of the era trends...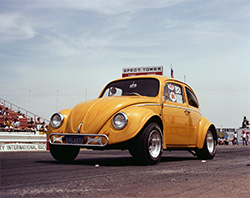 This yellow Bug looks very nice with its typical front bumper, mild striping and plexiglas quarter windows.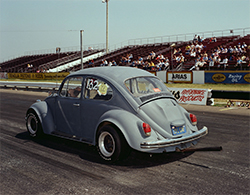 Mild custom with fiberglass fenders and decklid... This bug retains its original bumpers, a rare sight...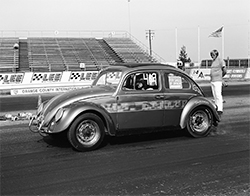 How I love this groovy machine with his unusual paintescheme...

J
ust a quick reference to
Rick MORTENSEN
period built Custom '67 Bug in 1973.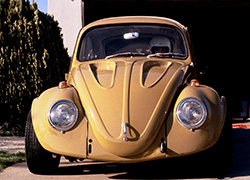 Looking just like the Deal Auto-Haus logo, the way to go if you want to build your own...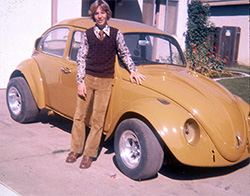 A proud young Rick...

I
had to share those very cool period pictures from
Richard WOJCIK
! That bright orange EMPI accessorized bug was owned by his brother Bruce. I would see here a mild customized bug :-)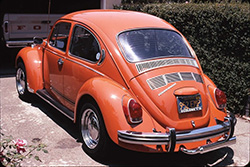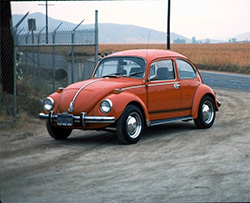 The Chopped Top, this is how this bug built by Thom COX and Dennis DAHL used to be nicknamed back in the days.