B
elow are some pictures of the Mad Pineapple replica Art is currently building. According to Art, the bug is now 90% finished.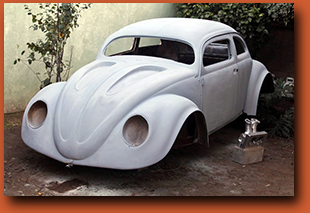 Art Mad Pineapple Too sure will look awesome once finished.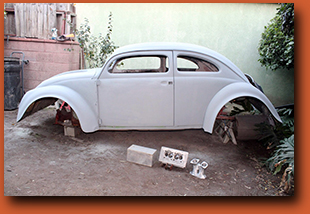 Excited to see the final result on a racetrack near you...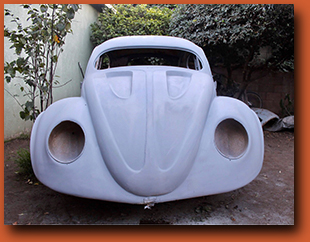 Perfect Top Chop... Look at that windshield!!!
ART WORDS :
I
n the early days street racing my gray 55 back behind the old Nabisco Cookie Factory building in Orange County and at bugins and after bug rallies etc, soon after I very sadly heard that Danny had been killed while hang gliding on Orange County's Scape country area. That day he loaned his helmet to a fellow just starting out hang gliding, so he wasn't wearing his, Danny hit a down draft and crashed into the side of the cliffs. He passed away at 27 years old doing another passion of his besides drag racing! His brother Paul told me recently no one could get to him for hours because of the disolate area he was and also because Danny's dog was loyally and viscously grading his body. He's buried at Westminster Cemetary.
I
f I remember correctly I attended the funeral, but know I've visited this grave site. Soon after Danny's passing I heard his wife was selling the Pineapple but I didn't have the $4,000, so a pal Mike Sellers the president of our DVD VW club bought my gray 55 street bug so I'd have the money to buy the Pineapple in 1975.
D
anny mostly raced in the NHRA J Gas Class doing 11.30's, wanting to go faster I went to Darrell VITTONE, anyway The Race Shop and had Fumio do me up a set of his full on race heads for the Pineapple, resulting in a best time at OCIR of 11.06's at 122 mph when I crashed it at bug-in 17, I got through the end of the track, lightly touched the brakes and slammed into the left guard rail at full power, when I quickly came conscious the engine was still red lining and I hit the mag's kill switch.
I
sprained both my ankles badly slamming them into the fire wall but still managed to got to the OCIR's tower to get the 11.06 time slip which I still have. The Pineapple's original engine that Danny built was a 2180 with Aries slipper skirt pistons, with heads that Danny did himself, he was very talented, it had long Chevy connection rods, Empi 1.4 rockers and 11 to 1 compression. Shortly after getting the car I went through the engine adding Fumio's heads, more compression, 13 to 1 and Sig Erson 1.5 rockers. I'm going to take a break, get back with ya later tonight, your friend Art.
I
only got to race the Pineapple for two years at OCIR, Irwindale Race Way and the Sacramento Race Track. I knew Danny pretty well, his shop was in my Los Alamitos neighborhood On Los Alamitos Blvd, a lot of the VW street racers hung out there, my self, Rick Stanchfield, Steve Hankhouse and a lot of the guys in the DVD VW CLUB, Danny was sort of our local VW drag racing hero, he was always helpful making our street cars faster! I had to scrap the pineapple, it was so badly crumpled.
I
n the early days my VW club DVB had Mike Sellers in it, also Don Bucky, Mark ROSEVEAR who's dad owned AUTO HAUS and a bunch of other great guys. We hung out with the vw club DRF and Der Kleiner Panzers. Roger Crawford who owned the "Bad Company" drag bug and his pal Terry were in DRF, we all street racers in the early 1970's. My VW speed shop was The Race Place and Racers Choice.
DRAG RACING USA magazine JULY 1974 :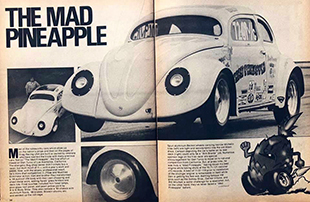 M
ost of the noteworthy cars which shop up on the nation's strips and then on the pages of Drag Racin USA magazine are built or owned by veterans who have learned the tricks with many previous cars. Not so 'The Mad Pineapple'; the first effort of Hawaian Dan TURCO of Los Alamitos, California. The energetic Bug Shop owner didn't simply buy a race, but built most of it - with a year's work and 9000$.
N
ow, with the showy, professional result, he's more than competitive in J/Gas and Modified Eliminator action. Dan and brother Paul transformed a '56 sunroof VW body with their own chopping and sheet metal work, adding flared 'glass fenders and decklids. Final touches included mini head lamps, plexiglass roof panel and pearl yellow paint by B&M Body Shop.
T
hey also remade a '63 chassis with aluminium floors, '66 brakes, Bilstein shocks etc... and welded up the roll cage. Spun aluminium Becket wheels carrting narrow Michelin tires are light and aerodynamic like the old Moon dics. Cartoon depicting the car's name on its rear decklid cound only be a 'Rim Brante' job. Numerous sponsor tags on his first racer are special encouragement for Dan to move on the national competition from California.
B
ut, at press time, he was truly a 'Mad Pineapple' having blown his best engine while taking shots at the 10.71-121 national J/G records. A best of 11.07-115 prior to installation of the stronger engine is remarkable in itself while Dan is getting his feet wet. Battling famous VW pros such as the Schley bros, Darrell VITTONE and Bill MITCHELL is some challenge for a newcomer, but, on the other hand, they've never faced a 'Mad Pineapple' before...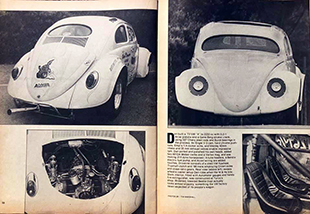 A
rt built a '73 VW "4" to 2233cc with 13.2-1 Arias pistons and a Gene BERG stroker crank, using 327 Chevy steel rods and Buick bearings in the process. An Engle V-3 cam, hard chrome pushrods, EMPI 1.4 rocker arms and Manley 42mm intake and 35mm exhausts valves enable impressive rpm. Dan portef and polished his own heads, added two 48IDA Weber carbs and a Vertex mag, and was making 215 dyno horsepower. 4-tune headers, a Bendix electric fuel pump, and Accel wiring are added touches. Driveline consists of a steel VW flywheel, Treuhaft clutch and '66 transmission employing Crown axles and close-ratio gears.
R
ear view reveals wheelie caster setup Dan rides when the M&H bite. Stark interior, fitted with Autometer gauges and handy fire extinguisher, was constructed at Turco's shop.
W
idened, lowered beetle actually looks almost slippery, something the VW factory never expected of its people wagon.
ALOHA...