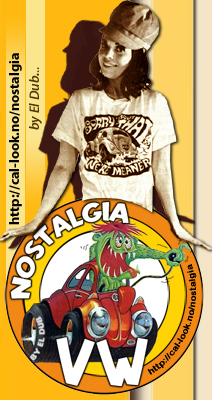 El Dub's Nostalgia corner.

Meetings, cars...

Treasures from the past.

Memories, people, meets.

H/Gas, I/Gas...

EMPI, Auto-Haus, R/S...

OLD VW GASSERS : MY FAV'S CARS...
EMPI INCH PINCHER !



A Tribute to the world most famous VW of all times : the EMPI INCH PINCHER...

Watch out for a real EMPI blast from the past with the complete story from the very early days to the bright Molly painted Top Chop Gasser ...



More...

DDS RACE CARS



The old DEANO DYNOSOARS Gassers are the most famous of all, mainly due to the knowledge of Dean LOWRY, the father of VW Drag Racing...

Not sure? Check this out...

More...
RACE SHOP



Race cars built at Vittone's THE RACE SHOP are among my favourites... The Story of the Shop by Glenn MILLER is here...

As well as the old racers story...

More...

IGUANA



It's not the best known old Gasser but it's one of my favourite... Simple as that...

Enjoy Bill CLARKSON skills!

Another update is on the make...

More...
LIGHTNING BUG



Another awesome gassers were the three LIGHTNING BUG of the Schley Brothers.

These blue cars were real records-breaker and certainly the best known today...

More...

GASSERS SURVIVOR



Some old Gassers still exists today... Those treasures are very rare but... Let's start dreamin'...

What about SMALL WONDER, ITALY 1, SNOOPY, FROG GUTS...

More...
FIAT GASSERS



Back in the days, little FIAT VW powered Gassers were quite common on the track...

They are a rare sight today...

Read on the full story...

More...

V8 GASSERS



Now what about some very nostalgic cars : V8 powered bugs...

Let's have a look at the DURACHROME Bug, the very very cool CHEVWAGEN and others crazy machines forgotten.

More...
---
Copyright © 2004 El Dub - All rights reserved.

E-mail : eldub@cal-look.com