I
don't know exactly why, but I always loved the paint job of the Race Shop sponsored cars. Without a doubt, the bright and not so common colors used play a big part in that statement. John Preston Ghia is no exception and if you ask me, I would say that this car is my all time favourite Ghia. Moreover when you consider that this car still exists today.
A
Race Shop story wouldn't be complete without a feature of this car. So, here it is... Hey, when was the last time you see a feature of this car...


Volkswagen Great 08/1975
W
hile browsing through my nostalgia literature some times ago, I found an article in the late Volkswagen Greats from August 1975 'bout this Record holding Ghia. The article is very interesting in that
John PRESTON
in person speaks of his car and the story behind. Talk about opportunity... So here it is, without any add or cut... Enjoy !!!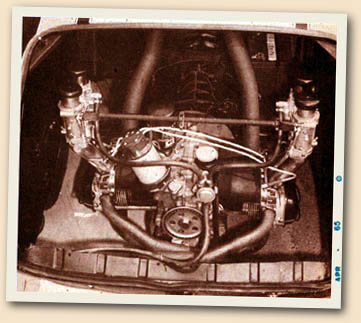 " I
n August 1971, while still living in Omaha, Nebraska, I decided to build a full race Ghia, something that up until that time was seldom seen on the drag strip. I bought a '63 Karmann Ghia in good shape and turned it over to a fellow I knew at the body shop who was a jack-of-all-trades, and as it turned out, a master of none. By December, the car was totally ruined. There wasn't a single salvageable part left, so I was forced to scrap the entire car and buy another one. I picked up an identical '63 and removed the metal top from another Ghia. Two tops were needed so that the new body shop I'd found could chop the top the way I wanted it. This time I was smart enough to follow the progress on the car and was delighted to see that this man was truly an artisan. The car was supposed to be finished by April, but when the target date rolled around, the car wasn't quite complete because he'd lost interest. Our agreement had called for him to do all the bodywork and painting, so I was forced to take it to another shop. Some time later, on a Friday night to be exact, the car was finished. Saturday morning, we put the motor in it and towed it 200 miles to get to a drag strip, almost losing both the trailer and car in a near accident. When we got to the strip the car looked great. Then we made our first pass. Coming off the line, first gear felt good. Second gear also felt strong. But when I went to third the car did a 180 degree spin into the grass alongside the strip. I figured that I'd done something wrong, so we took the car back to the shop and checked everything out. Nothing unusual turned up so we went back to the strip and made another pass.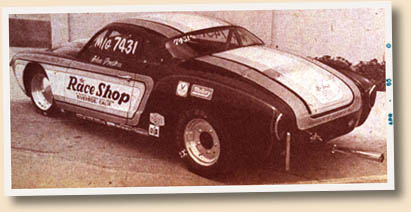 This time everything was fine until I shifted into fourth, at which points the car did a 360 and a 180 into the grass at about 90 mph, the right rear fender hitting the guard rail so hard that the car spun around and caught the other side. Our second outing with the car and it was wrecked. What a way to start a season. Again, the car was repaired and again we towed it to the strip, this time on a Wednesday night. And, sure enough, the damn car again spun into the grass, fortunately no hitting anything. A guy I knew came up to me after watching our escapades and asked to look at my front end. Would you believe it? he told me my axle tube was in backwards. We changed the axle around and on the first pass under full ower the car turned an 11.45 ET, which was seven hundredths under the record at the time. At the first points meet we went to in May of '72, we set the record. Since that time I've held the record and it's never been broken or taken away.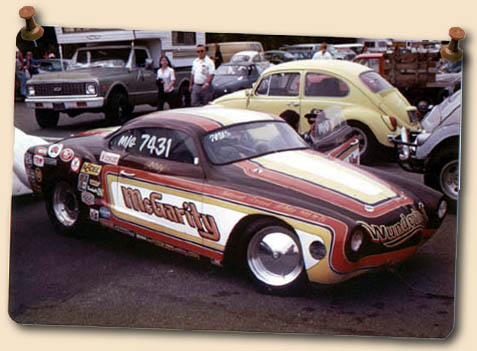 Picture on right is by Mark SCHMIDT and is awesome. OK, the Ghia was not Race Shop sponsored at that time but it still sports the classic Race Shop paint scheme and I had to show it here. Rhaaaa Lovely!!!
From the car's inception three years ago, when it was running mid-11s at 116 mph, we've been able to markedly improve its performance. Now we're turning 10.80s at 123.50 mph. There are many reasons for this car's success. I've worked along with Darrell Vittone at his Race Shop in Riverside, California, ever since I first got the car and that's probably a significant factor right there. But the big part of our winning is that the car simply works well. There's nothing really trick about it. Front end components consist of sox positions coil-over schocks with adjustable springs rates,a P&S steering box and P&S spindles (a la Funny Car). With these coil-over schocks, I can dial in the amount of weight tranfer I need at a particular drag strip, depending on the traction available. A full roll cage ties the front suspension to the rear suspension (A la Pro Stock). A 27mm Crown torsion bar is used in the rear and we set the suspension initially with all the of the weight in the car so the wheels are straight up and down. Then we use a Bus type snubber with a piece of braided hose inside it and set the snubber so that it's about a quarter of an inch away from the stop. As a result, when the car works, there's very little movement, forcing the wheels and tires into the ground. There is no decambering whatsoever. The car is all steel without an ounce of fiberglass in the body. All-up weight is 1365 lbs. I run an SPG 82 roller with 89mm EMPI pistons and cylinders. The motor puts out 203 horses on Darrell's Dyno, which means it is producing about 1,63 hp for every cubic inch. This figure has only been surpassed by the motor Darrell ran in his modified Compact car. The heads on my number one motor are interesting because they're over four years old. They were the very first of cylinder heads from the old Race Shop.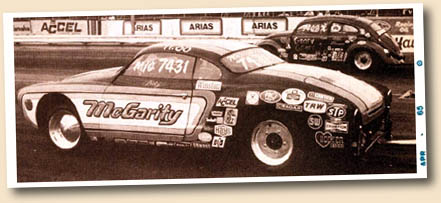 The heads have been updated to 42mm intakes by 37,5mm exhaust, and have consistently flowed more both on intake and exhaust than any other set of heads that the Race Shop has produces. Why, we don't know. The engine also has a set of four year old EMPI manifolds, which have been rewelded several times. The basic specs on my number two motor are the same, but of course the heads and so forth are much newer. We use 48 IDA Webers with 42mm venturis and 190 main jets. A Vertx mag with 28 degrees of advance is also used. Treuhaft has supplied the clutch for the 13 to 1 motor and a 8 1/2-lb flywheel is bolted to it. Other features of th engine include a Gene Berg four-quart sump and competition oil filter. I guess you could say I like simplicity. As you can see by looking at the car, I've made a fervent effort to keep everything very basic."
John PRESTON

The Race Shop Ghia today...
T
he most amazing about this Ghia is that the car still exists today... I had opportunity to shoot the car while my USA '2001 Tour. I was really impressed to detail the car in person, after years of eyes abuse in my old literature... It looked awesome under the sunny California light... I remember an old edito written by
Dean KIRSTEN
in Hot VWs where he comments the hapiness of driving such a piece of history... Not a surprise... The car used to be for sale but unfortunately, I presume way too much for my little wallet...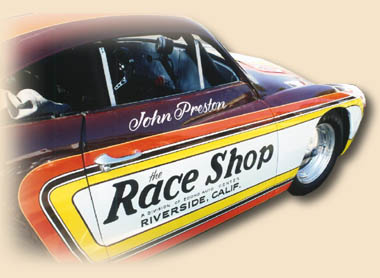 ---
Copyright © 2003 El Dub - All rights reserved.

E-mail : eldub@cal-look.com