ell, when I began compile this section, I was afraid not to be able to show interesting materials and facts as the R/S Fiat is not very known today, although it was one of the fastest VW powered Gasser in the good old days...
ut after some little researchs, the section will be finally a full 3 pages... Crazy! Hey, where did you already saw 3 internet pages devoted to the R/S Fiat 850 except than here... ;)
n fact, very few people knows that Darrell built in fact 2 different versions of this gasser... The two first page are devoted to the first version, while the third deals with the improved one that will be online soon...
nd what better way to be as informative as possible than writing the own words of the late VOLKSWAGEN GREATS mags...
: General Specs.
"W
hat does it take to stay competitive in drag racing? Ask any hardcore racer and you will get a reply like " a helluva lot of work and plenty of luck". The competitive racer spends hours of research work striving to get the lowest ETs to stay ahead of hundred other guys trying just as hard to do the same thing. it's a never ending battle on two fronts, the clocks and the competition and it's not limited to the fuel burning Dragster or Funny Car builders, either. It's just as dificult, if not more so, to refine an exsting factory-built machine to make it a better drag racer all the while staying within the limits of the very stiff NHRA Rule Book.
Darrell VITTONE
has been connected with high performance Volkswagens for a good many years and his EMPI Inch Pincher VW Gasser is well kwown to anyone with an interest in drag racing. Untila short time ago he track tested EMPI speed parts in this company sponsored race car.
N
now there's a small shop in Riverside, California, simply named
THE RACE SHOP
. It's a speed shop designed to make VW-powered cars go fast, and it's Darrell newest endeavor. To christen his new enterprise, Darrell started out to build a strong race car. He was free to pick and choose because he was no longer tied to the VW as the car he must campaign. However he wanted to saty with a VW powered machine bacause he knew this engine best. To fit the needs of superfast H/Gas drag sedan, he looked for something with better aerodynamics than of the Beetle sedan. Even with a 4 inch top chop to make it a better drag machine, there just had to be a slicker way to go.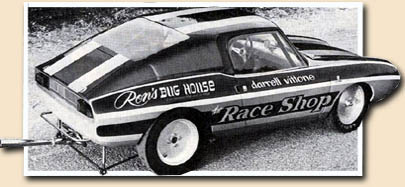 T
o comply with NHRA rules, the engine must remain in the same location as it was originally. At first a rear-engined small sedan better than the Beetle seemed nonexistent, but there was the super smooth little Fiat 850 Spider. The only drawback was that to race in a NHRA class, it must be a hardtop class, no open cars. But there is a fiberglass top that can be fitted to this model that would qualify it as H/Gas class material. It wasn't difficult for Darrell to decide that his new car would be a hardtop Fiat 850 with the strongest VW engine he could put together nestled in the rear.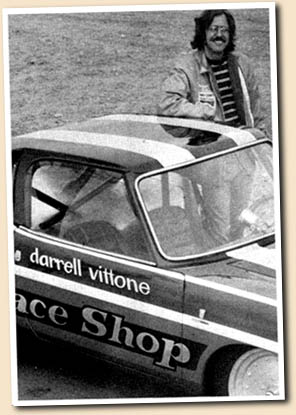 L
ooking at Darrell's new wildly painted drag machine, it is hard to imagine it was once a stock street driven roadster with all the regulars like bumpers, wipers...
Leon SCHINDELE
of Riverside takes credit for the magnificent job of reworking the Spider's exterior, filling all the holes that existed when the parts were removed.
S
CHINDELE also worked the 'glass top to get it as smooth as the metal body. It is evident that much time and hard work was put into the car getting it ready to paint. Credit for the paint goes to the wild car paint artist, Georges CERNEY of Norco.
H
e was a way of using a startling assortment of bright colors and making them really come on. The car sports lot of orange and red and some bright yellow, very dark burgandy, shades of purple, and white. And it's bright.
M
ost of the chassis work was done by Charles MORSE. First the entire stock Fiat suspension was removed. Up front the stock A-arms and its complete suspension was replaced with a much lighter set-up. For strenght and simplicity, they decided to use a Funny car tubular axle and a dragster-type torsion tube. The funny car axle was originally built by John BUTTERA but Charles cut it in half and narrowed it 6 inches to fit the 850 body. The torsion tube was made up with brackets to attach it to the lower edge of the chassis rails. The housing was fitted with a shortened VW torsion bar and special arms attach the bar to the reworked axle.
S
mall KONI shocks are used but are held to a limited travel of 3 inches on the front suspension. The steering bos is the stock Fiat rack & pinion unit mounted in its original location.
A
t the rear, the stock Fiat control arms were retained but heavily strenghtened to absorb drag racing punishment. The unit were lightened considerably by drilling and all of the seams were heliarc welded for added strenght. The stock coil springs were retained but have a long snubber bolt running trought them for travel control. The rear suspension is set up with one inch of travel as required by NHRA rules. Bilstein gas-filled shocks are used in the rear and have been relocated."

More on next page...