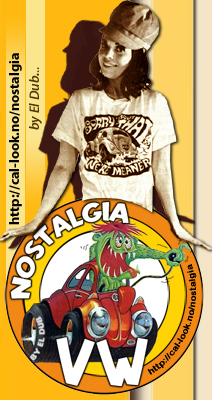 El Dub's Nostalgia corner.

Meetings, cars...

Treasures from the past.

Memories, people, meets.

H/Gas, I/Gas...

EMPI, Auto-Haus, R/S...

COMPANIES THAT CREATED THE GROWTH OF AN INDUSTRY
Companies always played a big part in the VW addict propagation... If you look back, a wide range of products were available very early for the little VW : engines parts, accessories, aftermarket rims and so on... One thing is for sure : many parts wouldn't be easily available today if old companies like EMPI or AUTO-HAUS hadn't worked to make accessories parts market what it was in the good old days...
EMPI (R. Marshall Webber)



Out of all the companies that contributed to the phenomenal growth of the VW aftermarket industry, EMPI was the pioneer.

In terms of their link to the development of Cal Look cars - and looking past all of the flashy dress-up items that were eventually offered - EMPI broke ground by offering quality high-performance engine parts during a time when there was virtually no "aftermarket".

Rise & Fall of EMPI part 1...
Rise & Fall of EMPI part 2...
Rise & Fall of EMPI part 3...

EMPI Adverts...
EMPI Artwork



AUTO-HAUS



"AUTO-HAUS from Buena Park is not just another automotive accessory store. It is one that was set up to cater to the needs of only one make of automobile - the Volkswagen, both beetle & buggy".

This is what Hot VW's magazine reported back in the very early '70s about Auto-Haus... Many others Auto-Shop opened after and it became the largest distributor of foreign car accessories.

Soon...
THE RACE SHOP



While not being strictly speaking what you can call an aftermarket company, THE RACE SHOP of Darrell VITTONE sure played an important role in the '70s...

This performance oriented shop saw many well know cars being built and maintain there.

Read the full story by Glenn MILLER...
---
Copyright © 2003 El Dub - All rights reserved.

E-mail : eldub@cal-look.com