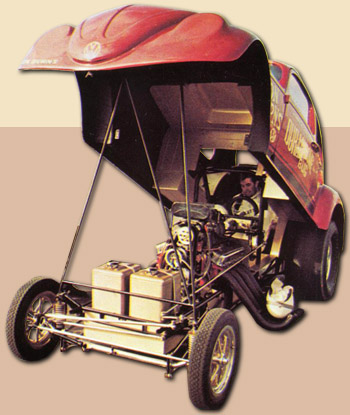 I
mpressive or what? I love that picture by
Ed RADLAUER
! You'll be very lucky if you notice some genuine VW parts remaining on this monster... LOL!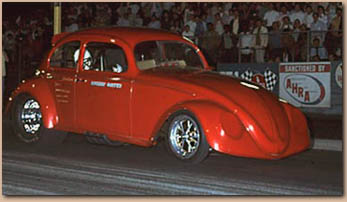 A
bove and below pictures by
John EWALD
show the Funny VW racing at night! Note the lack of sponsorship signwritings on the first one... Those were the early days...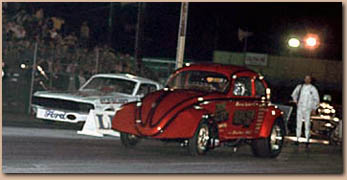 C
ar is said to be capable of under 8 second 1/4 miles at speed around 180-200 mph and ran a 427 Chevy powerplant using a BMG blower. Chassis and front axle was built by
Mike KASE
from Torrance, California. Glass body was built by
Bill TEMPLE
. These are the only tech spec. I found right now...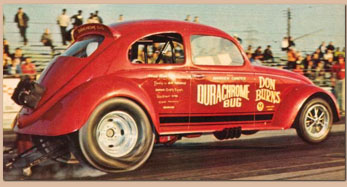 A
very cool rear photography... Note the rear tire shape...
W
hat happened to the Durachrome bug? Well, I'm a bit confused regarding his destiny, because the car is supposed to be still in existence somewhere in USA under a yellow paintjob, from the guy who originally bought it from Warren... What confuse me is the fact I've seen one picture showing the candy red glass body in very very bad shape (understand totally destroyed...)
W
hatever happened, the Durachrome
Just a littel bug
will stay as one of the most outrageous bug ever built and campained...
To be continued soon with the ChevWagen...