A big THANK YOU to Mike OGNIBENE and Hans HUBER for their precious help in compiling this section.


W
ell, Volkswagon gassers that survived the times are few and far between... Some were destroyed while racing, some were put in storage and abandoned a long long time ago, but some are are still intact today...
ITALY 1
of
Mike OGNIBENE
is such a time machine...
Y
es, that car was built in the early 70's and was racing way before the majority of us were born... Beauty here is that this car is still racing today in the hands of the same owner...Talk about a love story...
M
ike is still really involved today, and it's not unusual to see Italy 1 at the Nostalgia races, and see Mike wrenching between rounds... I have enclosed some recent pictures on the right yellow bar.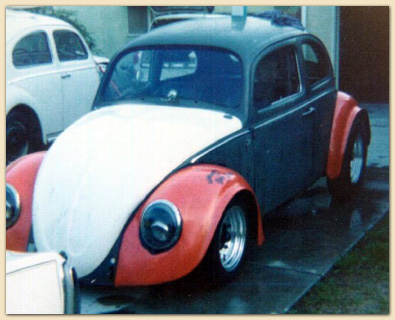 Now, is it awesome or what? Yes, this is how Italy 1 project began back in the days... Rare... and only on the Cal-look.com nostalgia corner ;) Fiberglass parts are evident on these great picture! Note that the car was retaining his trims at that time...
I
nterestingly enough, Italy 1 made it on the cover of Volkswagen Greats magazine for the June 1975 issue, but there was no feature inside this one... Amends to that omission was made in the October 1977 issue and here is the complete story for your knowledge...
"Italy 1
is a '63 L/Gas Type 1 sedan owned by Michael OGNIBENE of Fresno, California. Mike and his brother Joe did the majority of the work on the car. The engine, which has probably seen more drag strip miles than the average person drives a year, displaces just over 2100cc and is said to put out an honest 215 horsepower.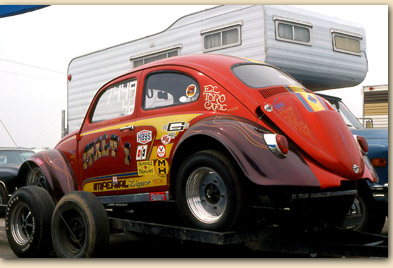 Another treasure picture by Mike DITTY showing the car on the trailer!
T
he '71 Type 1 case has been fitted with 92mm Gene Berg pistons, Total Seal rings, Chevy 302 Z/28 rods, Engle FK89 cam and a Gene Berg stroker crank. Berg also ported and polished the heads on the 13:1 motor and used his pushrods.
A
pair of 48 IDA downdraft carbs are bolted to Berg manifolds. Mounted atop the engine sheetmetalare two squirred cage electric cooling fans. The generator and V-belt -driven stock cooling fans were discarded because they simply robbed the engine of too much horsepower. The engine also features a Gene Berg exhaust system fabricated out of 1 5/8 inch tubing and Bosch 010 distributor.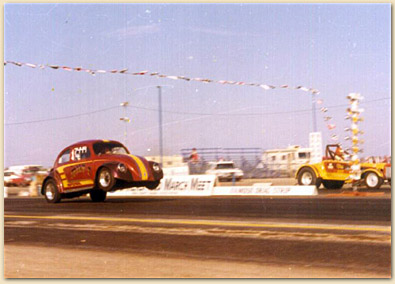 Impressive wheelies were Mike especialty, just like the one on Volkswagen Greats cover...
T
he driveline consists of a Berg flywheel and clutch, beefed-up Type 1 transaxle with Crown axles and close ratio third and fourth gears. M&H slicks measuring six inches in width transmit the power to the ground. Chrome plated wheelie bars insure that there'll be no more high-flying antics for this beetle.
O
ther chassis modifications include a Berg front axle and engine support bar. Overall weight of the beetle has been pared down to a mere 1530 pounds through the use of fiberglass front and rear fenders and hood and deck lid, aluminium floorboards and Plexiglas windows.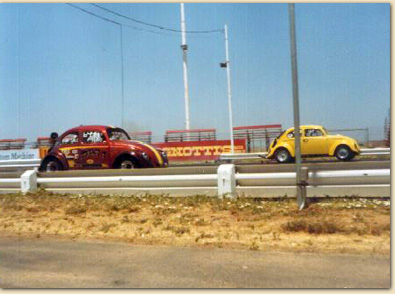 Another run at the track back in the days... I love those old gems pictures...
A
t present, Mike andhis brother are considering revamping Italy 1. Most of the changes will center around an all-new engine. Since the car runs 11.30s at 115mph as it sits, it won't take much to get in to the 10s. And that, they figure, would be one hell of an accomplishment."