Before goin' any further, let's send a Big THANK YOU to Ole ENDLER for his precious help in compiling and updating this section...


W
hat better way to detail an historical car than copying what was written back in the days... Well, this was not an easy task to find something interesting regarding this car in my Nostalgia literature... Sure, the fact this car was built in Mexico city help to explain why it was not so covered... By the way, if anyone remember seeing a picture of that gasser in Hot VWs, don't forget to tell me in which issue...
S
o here is the complete story written back in February 1975 issue of Volkswagen Greats, along with some AWESOME pictures coming from
Ole ENDLER
, the current owner who was lucky enough to track down the history with period never seen shots coming direct from Mexico, where the car originated! When I saw those pictures, I thought that those were real treasures, as this car was never really documented!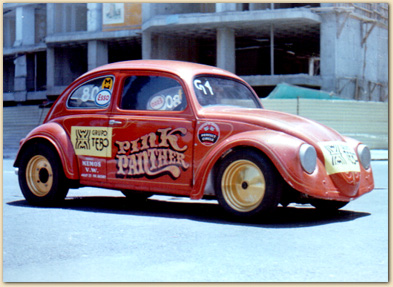 Action in the streets of Mexico. Hey Ole, what about the same scene on the german autobahn ;)
"T
he Pink Panther is not only the name of a classic Peter Seller's movie, it is also the name of one very fast beetle which was built for racing by a team of Mexico city VW enthusiasts. Owned by
Armando Gomez NORIEGA
, the car was built in
Pancho MENDOZA
's shop, which is called Cunicas Automotices de Mexico.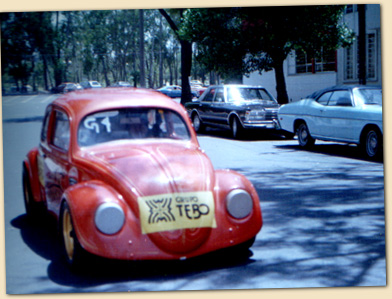 Action street action with the Pink Panther. Note the period american cars parked along the road...
T
he engine was built by the Race Shop in Riverside, California, to a displacement of 1947cc. It has a 89mm bore and 78.4 mm stroke. The cam is by Engle and the rockers and valve covers are by EMPI. Joe HUNT made the Vertex magneto and the carbs are dual 48IDA Webers.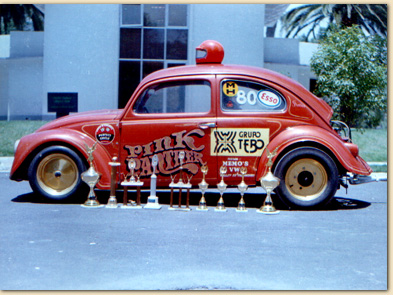 Collection of trophies looked impressive...
S
ince one of the team member is an engineer for Perfect Circle in Mexico city, naturally the team runs Perfect Circles rings. Although the exterior of the Pink Panther is relatively stock in appearance except for wheelie bars and the absence of bumpers, the interior more closely resembles a Top Fuel Funny car than a stock VW.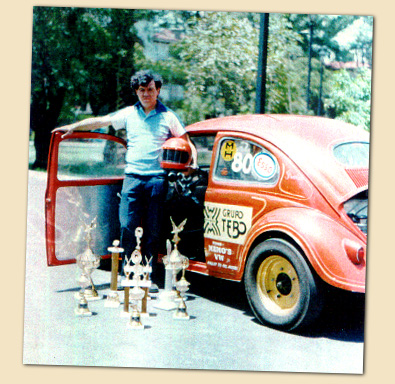 A proud Memo MORENO, second owner, stand by the Pink Panther!
A
ll the interior panels have been replaced by sheet aluminium, and four gauges are installed to replace the inadequate stock instrumentation. Only one bucket seat for the driver has been fitted.
T
he mexican team ran into trouble at the Bug-in at OCIR in October '74 with their carburation, they were used to running at the mile high altitude of Mexico City. After re-calibrating their Webers, they turned their best ET of 11.34 seconds at 116.27 mph.
W
e should add that the Panther crew spared no expense to make it to the 13th Bug-in. They flew the car over 1000 miles just to attend the event!"
S
ure, this is a very informative article! But Ole managed to find additionnal infos using local investigations made by his friend
Ulli UMSTAETTER
... Before the mexicans bought the car in 1971, the car was owned by...
Dave ANDREWS
... Small world... and was called "Baby Hippo"... Crazy...
W
ell, read on the full history compiled by Ole himself on the right column to know all about the car and don't forget to show your true respect to that gasser at the next show! It's definitely a real piece of history!