IVERSON, RENFREE, ECONO, CATRON, VAN WYK...
If you collect license plates of former VW and PORSCHE dealerships in the Los Angeles area, these names will certainly be familiar to you. And, if like me, you are passionate about performance Volkswagens and the fantastic events that took place at the end of the 1960s, you will know that there was a particular dealership that was very active in terms of sponsorhip and support :
Don BURNS
, which was located on Harbor Boulevard in Garden Grove, one of the municipalities of Orange County, California.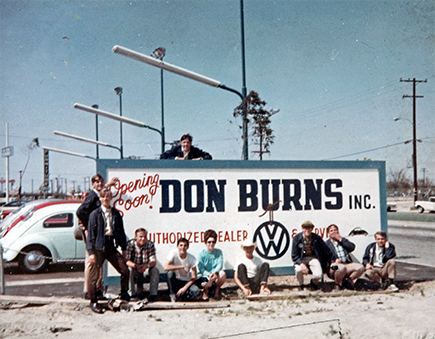 So-Cal VW Dealerships used to sponsor some of the most active clubs. Don Burns used to sponsor Der Guteeinene Volkswagen Association, some of its members are shown here...
I
always have been intrigued by the large number of race-prepped or custom Volkswagens (and Porsches for that matter) which proudly displayed the colours of this dealership. So, when I was recently given the opportunity to interact with the man who managed the Parts Department between 1968 and 1970, I felt obliged to share the results of my research with you...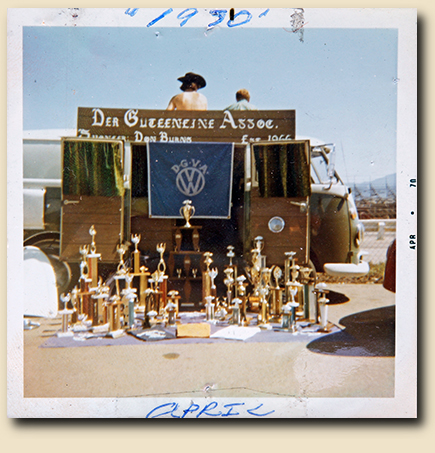 Note the Don Burns sponsor lettering on the DGVA bus. Bill MORTIMER April 70 picture.
S
adly, Don BURNS passed away 10 years ago (in May 2011) at the age of 85, after a very busy life. Don opened his VW dealership in Garden Grove in the mid-60s, and he quickly realized that that putting his name and colours on a few unique or iconic race cars would give him much more exposure than the Yellow pages or paying for TV spots...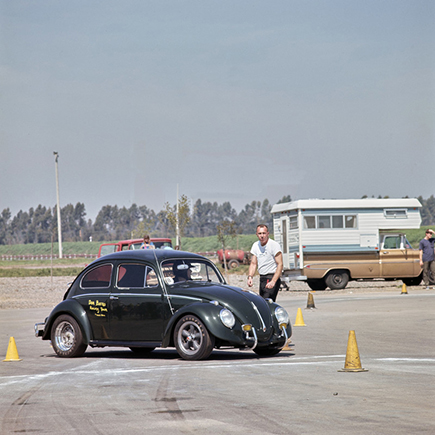 John WARD, ex Don BURNS employee very nice green '59 in action... The B&W picture appeared in the Bug-in #4 program.
Paul SCHLEY
remembers that, although they bought their '63 at the Chick IVERSON dealership, it was Don BURNS who was the first to sponsor the two brothers car, as evidenced by the rare pictures of the time that still exist. In return, the SCHLEYs got free spark plugs and distributor points, as well as a 10% discount on all parts. But there was even better : the SCHLEYs also had access to the dealership's facilities, in particular the engine workshop where they got their start on VW mechanics. When you know that
Dean LOWRY
(who had assembled their very first engine) had advised them to change the connecting rod bearings every 15 runs, you can easily imagine that such direct access was a godsend for them...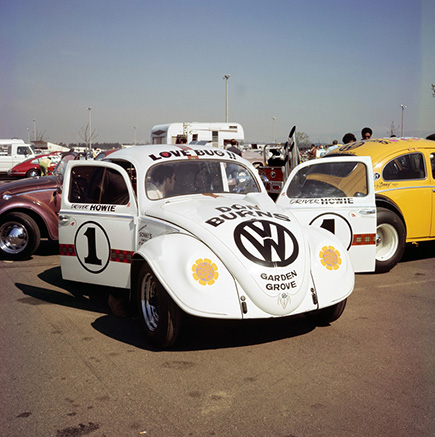 This is the very first Love Bug!! oval built by Howard RAIBURN that ran in the Modified Compact class. Car was originally found in the car lot at the dealership. All the lettering was made by John WARD brother in law. Picture from Bug-in #2 I guess.
B
ut let's come back to
John WARD
, the former dealership employee who has retained an excellent memory of those good years... At the time, David owned an olive green '59 which he used to compete in slalom events, and which also had the honour of being featured in several of the leaflets that were specifically edited for the Bug-in events. In one of the pictures which illustrate this column, and which was taken during Bug-in #2, you'll notice that BURNS was already sponsoring John's beetle which looked great with its EMPI 5s wheels up front.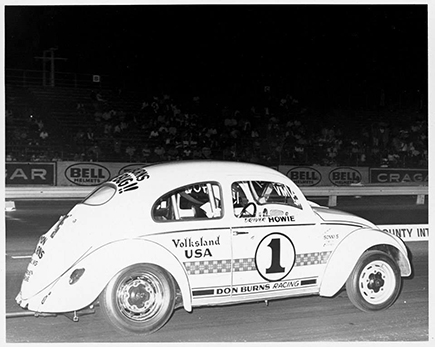 Don BURNS Racing in hard action... This is a different Love Bug with #1 number, and not the usual #53 one... I did not found what Volksland USA was meaning... Any idea?
J
ohn also worked with
Howard (Howie) RAYBURN
, another employee, to build the white LOVE BUG (a nod to Disney's famous Herbie), a small '55 oval window bug which was sitting on the garage's parking lot. It proudly sported a number 1 on its sides as well as the DON BURNS logo. Note that the same artwork was used on the Porsche 911s and 908s raced by the dealership at the same time, and driven by
Allan JOHNSON and Dick HAYES
.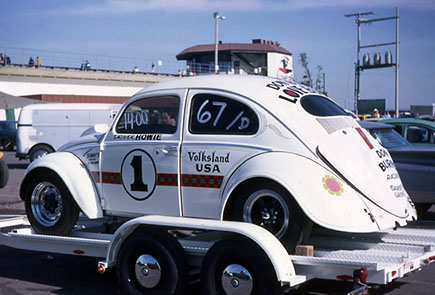 Awesome & never seen before picture at OCIR ;-) Famous 'Love Bug' stickers were used on headlights and taillights also. Perfect to save weight but not sure about night efficiency...
With its Type 3 block, its double Solex carbs, its short-ratio gearbox, its fiberglass body parts and its stripped down interior, it was very competitive in the Modified class, cloking a best time of 14.69s at Carlsbad. Obviously, the access to the dealership's dyno room was a big plus for Howie and John.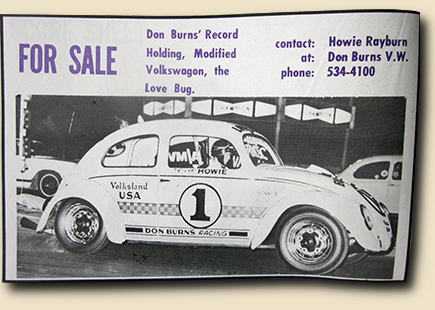 A 'For Sale' ad that appeared in an early Bug-in program...
A
second version named SUPER BUG and built by
Casey COLLIER
, another Don BURNS employee, was later piloted by
John SMITH
until he crashed in 1972 in Sanair, Quebec. He replaced it with the famous SUPER BUG II, a red chop-top, which still ran under the same banner. This super gasser deserves its own complete article...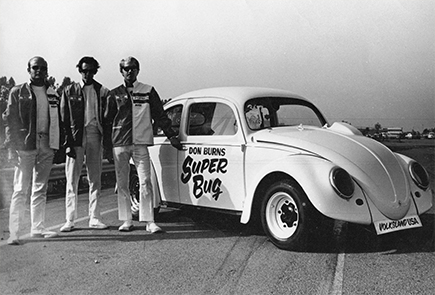 A very early picture of the new Super Bug showing Casey COLLIER on the left.
S
ome rather unique creations were also used as advertising media for the brand... I'm thinking in particular about a pair of Mini bugs (a Sedan and a Convertible) with their small 5- and 7- hp engines, which allowed speeds in the order of 35mph. They were a big hit at Bug-in #6, especially when they raced each other on the OCIR 1/4 mile...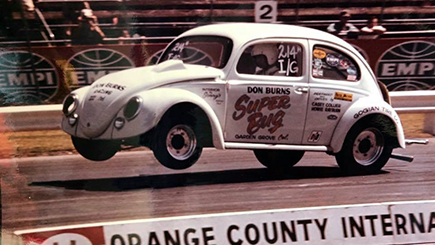 Now, the Super Bug compete in the I/G class...
L
et's not forget the little beach-themed pick-up beetle, in its resplendent purple metalflake paint with flower-power interior and running boards spotted at Bug-in #2. You can see this weird VW-powered hydrofoil-on-wheels in a picture taken with the very first Miss Bug-in, but I won't ramble on about it too much for fear of losing even the most open-minded among us...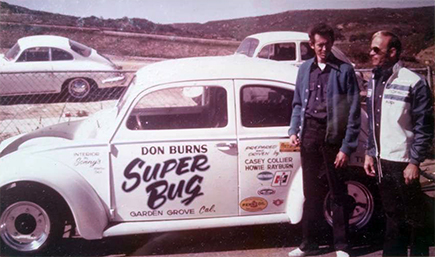 Howie & Casey, driver & builder...
A
t the end of the 1960s, Don BURNS was also active in some preminent clubs, and in the DGVA (Der Guteneine Volkswagen Association) in particular, as evidenced by the snapshot of the late
Bill MORTIMER
showing the bus and the trophies won by the club. In short, here was a very active Volkswagen dealership (we would sincerely love to see more of those today), and undoubtedly a visionary entrepreneur who certainly deserved a little Nostalgia tribute here...