A FRENCH TRIBUTE
TO THE PIONNEERS OF VW DRAG RACING
---



BLOWN BUG...
by Tom MADIGAN
O
ur cover car is a fantastic CC/GS Volkswagen, owned, built and driven by
Howard MUSE
of Bellflower, California. It is also an example of the ultimate in wonders that can be worked with the people's wagon. Keeping purity first in his mind, Howard spent 3 years and nearly 11.000$ to keep his Volswagen all VW. He keep very close.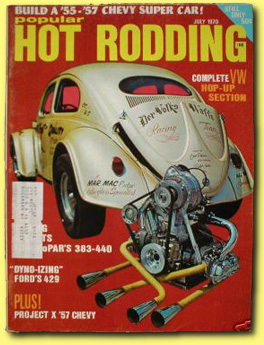 T
his is without any doubt the BEST cover a VW bug ever made in an Hot Rodding magazine. This one is definitely a must-have for any Nostalgia VW enthusiasm!
H
oward started with a 1954 bug. He gutted, removed, drilled and scraped until every unessential piece of excess weight had been discarded. The body is all metal; only the fenders are fiberglass. Keeping the wheelbase stock, Howard performed all of chassis work himself. The only vendor work done to the car itself involved a tube axle, the engine support and some suspension part built by Deano Dyno Soar.
N
ext came the powerplant. Howard chose a 1968 block for the base of his power source. The dimensions were changed to an 88mm bore and 82mm stroke, producing 121 cubic inches. With only 121 cubic inches to work with, the remainder of the engine had to go together with the precision of an oversized Swiss watch. EMPI supplied the pistons as well as the roller bearing rods. The rings are Dykes. Dual port '68 heads were used in combination wit 34mm exhaust valves and 40mm intake valves to produce a 10.1/1 CR.
B
reathing in the heads had been made easier by the steady hand of owner Howard Muse. Dean Moon provided the cam (340° duration and .481 inh lift). Now our plot thickens a bit. Remember, Howard's VW is blown. But, due to the small cubic-inch size, thought of the conventional 6-71 GMC puffer was out of question. Howard jumped into action and designed a special intake manifold. Then, Paxton-Mc Cullough aided him with a super-charger similar to ones used on the Studebaker Avanti. Fuel is fed to the engine by a C series AFB carburetor.
A
ll of the engine parts and frive train were balanced by Balancing Service of South Gate, Calif. On the dyno the mighty-mite produced a wailing 300hp. Did we say wailing? The four-megaphone exhaust headers, built by Mitchell Manufacturing, do just that. They give forth with the most hait-rising whine that has ever made our ears bleed.
I
n getting the horsepower to the asphalt, Howard retains a majority of VW parts as running gear. Both the transmission and flywheel are VW, while the clutch is Porsche. To twist out the rpms Howard uses a 5,40 rear end gear and Henry's axles.
T
o date, Howard has pushed his bg throught the timing lights with recordings in the low 11s bracket at 117 mph.
In this maxie world of big-bore monster blocks, it's kind of nice to see a mini motr really smoking it!