T
he top chopped Mouse Trap have seen 2 major revamps... This is not very known... How many were thinking that the actual car was the original one? I thought this also... But when I came accross some old pictures, it was evident... See more below... The racer looks strictly the same (even the rims), except for the paintjob of course.

FROM A TEMPORARY BEIGE VERSION...
T
he
CREAM de SCREAM
version is the most unknown... I guess this picture from
Mark SCHMIDT
was taken at Bug-in 16 in ... This is the only one picture I have ever seen of it... The car was sponsored (built/owned?) by a VW shop called
QUICK BUG REPAIR
that was located at Costa Mesa.
O
n my original picture, you can read on the back
'Heads by Simpson'
. I have no more detail about the car...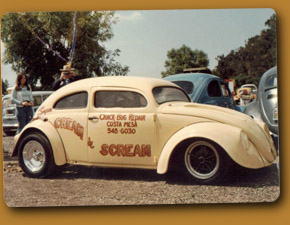 ... TO A FLASHY 80's PAINTSCHEME...


T
he above car was later replaced by another paintscheme & nickname :
WHIP-IT!
. The above picture by
Jeff HANSON
date from Bug-in 28 in ... The car now sports a very eighties bright paintjob!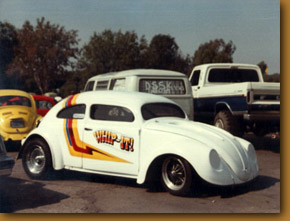 ... TO THE ORIGINAL PAINTSCHEME AGAIN.
I
remember seeing the new Mouse Trap in 2001 at the VW Classic. It was already for sale under the Chris MORLEY ownership. The car was not finished and the front fenders were not yet bolted early in the morning. So much memories in the picture (thumbnail) below, my very first US trip ... The car looks just like the original one, except for the side red pinstriping and the back fenders. But who cares, it now looks better than ever!!!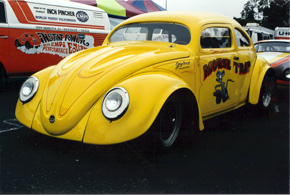 T
he car resides now in France under lucky
Xavier CROS
ownership! Xavier took delivery of his new car 3 years ago while attending DDD3! How time flies... The picture below was taken earlier this year at EBI #2. This is one of the best angle to shoot the car!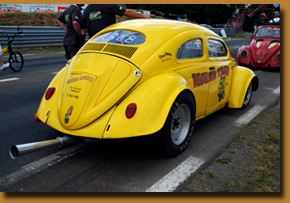 N
ow, I dream of seeing the car on in action again!!!
Go go go Xavier!