T
oday, "
custom
" is often synonimous with a definitely no-no as far as VW style is concerned! Well, in most cases and especially here in Europe, early customized bugs couldn't qualify as a respectable style... But, in the US, some of them were very cool, especially those who undertook a mild treatment. A bit of history here. The Custom scene was subtle in the early 70's and really exploded in the mid-70's with the accesories
H
ow to describe a true customized Volkswagon? Well, take an original Cal-Look bug and imagine the opposite ;) Simple as that... The more body accessorized bug the better... A cool drawing sure might help here, so here it is...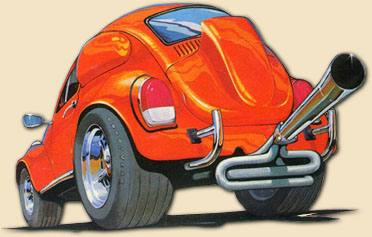 T
his little drawing appeared on a way cool Revell Model back in the days and it displays what is involved in the Custom Look :
- F
irst, big (understand very big...) wheels were
de rigueur
, as is the white lettering of the Good-Year tires.
- S
econd, aftermarket polyester body parts were generally added to help make that VW definitely yours : in this case with flared fenders, custom decklid and quarter windows scoops...Crazy!
- T
hird, remove those heavy stock bumpers and replace them with Buggy style T-bar, (or with nothing...)
N
ote that lowering the front end wasn't an in thing yet...

...FROM MILD...
A
s often, the treatment can be very mild and confine with excellent results. Period picture below (I love those old family pictures...) shows what can be done with an easy change of rims on an early 60s bug... Note also the lack of bumpers and the license plate's new location... Otherwise, the car is all original...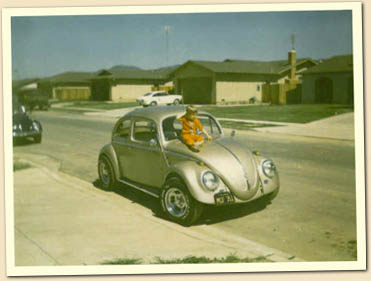 A
nother example of a way cool mild customized VW... This one is (believe it or no...) a 51 split window... This family picture was taken in 1973. Note the updated flared fenders and the fiberglass front hood with gauges scoop!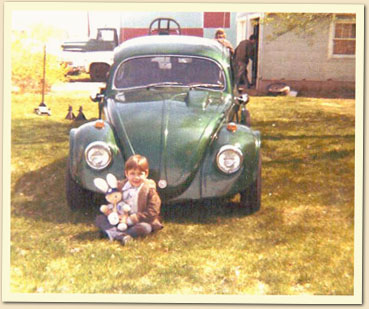 ...TO WILD.
E
xpressing yourself through your bug is what customizing was all about in the 70's and it's definitely not a surprise to see some guys really stand out from the crowd with their pride and joy VW, understand with somewhat wild treatment...
T
oday, such way of customizin' sure would be accepted by the enthusiasts if you follow some rules... Below are some examples of what I mean! Now, back to your garage for the next show season... Hey guys, I want to see some ElDub's Looker next year *Laughing*!