'JAZZED UP' VOLKSWAGEN CHALLENGES BAJA 1000
Below is a complete article (with period pictures!) written by Jack MATHEWS in the Daily Enterprise newspaper dated Monday, November 4, 1968! Talk about rare facts... Another 'Oh my god' material only available in the Nostalgia corner of Cal-look.com website...


FINISHING TOUCHES
- EMPI mechanic Lee Leighton makes final adjustements to the air filters on the colorful Volkswagen that EMPI and toy manufacturer, Revell Inc., are co-sponsoring in the Baja 1000 off road race that began this morning in Ensenada. The car had been built and reinforced to withstand as much abuse miles as a normal car would get in 500.000 miles if one ever ran that long. Revell plans to put a model kit of this same car on the market some time after the Baja race
(More about that modell below)
.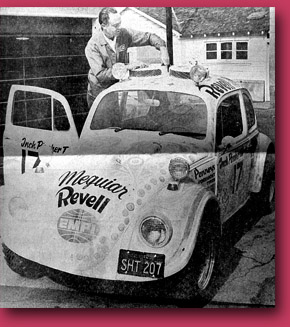 Lee LEIGHTON wrenching on the car. Never heard that Lee worked on the Baja Inch Pincher sedan before.
W
ith its multi-hued fluorescent paintjob, its three sets of headlights, tractor-like tires and commercial decals plastered all over, it would seem more at home in a hobby shop that on a highway. And that's where it will be - or miniature protoptypes of it at least - after the Baja 1000 off-road race that began this morning in Ensenada.
T
he toy in question is, or once was, a 1967 Volswagen sedan that has been jazzed up at an expense of about 5.000$ and in the spirit of competition to compete in the nightmare road race from Ensenada to La Paz in Baja California. This is the second annual Baja 1000 and more that 250 cars, jeeps, dune buggies, pick-up trucks and motorcycles started the long, reacherous trek toward Baja's southern tip at 6 o'clock this morning and if all goes as well as last year, only about 50 of them will be around at the finish.
T
he first 90 and the last 40 miles of the race are on paved road and the rest is on whatever nature intended - which lends itself to just about anything other that wheeled transportation. "If the car finishes the race, it's about the same as 500.000 miles on an average car", says
Jim HANSEN
of EMPI, builder and co-sponsor of the toy entry. The other co-sponsor, Revell Inc., of toy making fame, plans to market a model Baja kit on the VW design in the near future.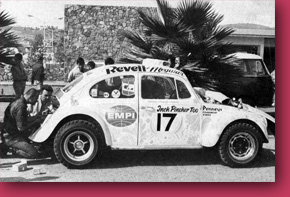 Location unknown... Doing some mechanics...
H
ansen says the same car, minus the fancy artwork and most of the engineering, was entered in last years inaugural Baja 1000 but lasted only 375 miles before a ditch snuck up and destroyed its front end. To avoid that type of accident, the fenders, decklid and hood have been replaced with fiberglass. If they hit anything hard enough, the panels will break away. Heavy metal skid plates have also been installed beneath the car to protect shock absorbers and suspension systems. The engine, once a mildmanered 1300 cc 53 standard model, has been beefed up to 1700 cc and turns out 88 horsepower.
W
hat put most of the cars out of the race last year, Hansen says, was heavy dirt contamination in the engines. To prevent that from hapening to the toys, its engine has been completely sealed off from the outside world and reveives its air from one of the two filters installed on top of the car. The filters are soaked in glycerine and are the same type as those used in space capsules. Teh second filter circulates air inside the car which is also sealed to protect the drivers from dust.
T
o shift the weight away from the front end of the car, mechanics have removed the normal nine-gallon gas tank from beneath the luggage compartment and installed a 23 gallon in the back seat. The larger tank will allow the drivers to skip every other gas stop along the race route, Hansen says, saving much time. The drivers are required to take a number of accessoris along with them - such encouraging things as snakebite kits, survival packs, sleeping bags and at least three days supply of food rations. In addition, two spares tires will be packed in alongside the gas tank.
T
he race is expected to last about 30 hours for the early finishers and who knos how long for the last. Though only 30% of teh starters last year finished, all of them were eventually found...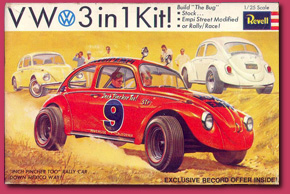 Above picture shows the Revell model that the article refers to. This is a very cool model. I feel very lucky to have bought mine some years ago, complete, never opened, with duplicate stickers. You could build 3 different kinds of bug : Baja, stock or cal-look!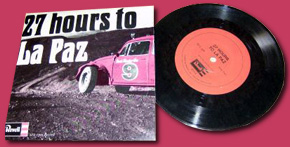 The Revell model even offered a special record : 27 hours to La Paz! I wonder how that music sounded...