A FRENCH TRIBUTE
TO THE PIONNEERS OF VW DRAG RACING
---



HOT VWs - MARCH 1980

...EVERY CLASS HAS HIS TOP CONTENDER...
As usual, what better way to describe a vintage race car than period writings... Below is the complete article by the Jere ALHADEFF...
T
hat's right, we don't care if the sport is boxing, baseball, football, off road racing or drag racing, each and every sport has what is termed its top contenders. For sure you could say that Ray Leonard, the New York Yankees, Dallas Cowboys, Malcom Smith, and large papa Don Garlits aren't also rans.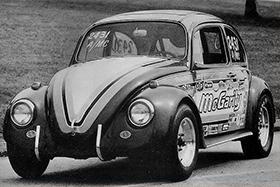 When you run nationals events, you need all those decals for contingency money...
I
n the sport of VW drag racing you can add one more name to the list of top contenders for overall honors to those of Bill DUNCAN, Gary BERG, Lloyd MOSHER and others - Rickie Mc GARITY.
W
hen Rickie Mc GARITY first began his racing exploits in 1971, he was racing a dune buggy on short oval tracks. After a year of going in circles, Rickie decided to switch his efforts to et bracket drag racing. Rickie bracket until 1975 when he purchased the John PRESTON "Wunderbug" Ghia and began class racing (drag racing in a designed class).
I
t was in 1977 when Rickie began to branch out and built his first A/MC racer. The first A/MC racer was successful and set the class record in 1977, but it proved hotter than expected in 1978.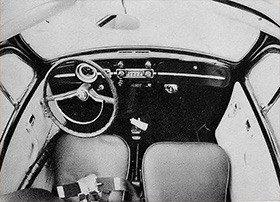 Interior is almost stock except for roll bar, gauges and shifter.
A
fter qualifying in first place at the Country Boy National Open, the event was rained and rescheduled. On the way home from the event the car caught fire on the trailer and proceeded to burn to the ground. The reason for the fire was that this one time the battery cable had not been disconnected and the rain shorted the battery. The rain date for the event was six weeks away, and Rickie purchased this 1967 sunroof sedan, made it race ready for the event, and would runner-up.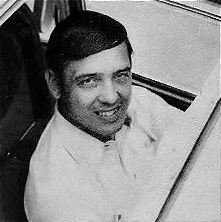 Rickie squints out the top of his bug. Nice clean cut guy, right!
A
ctually, Rickie owning two race cars is not extravagant as it first sounds. Both the L/G Ghia and the A/MC sedan use the same racing engine, so that helps keep the expenses down. Rickie mainly concentrates on the A/MC car, racing it at the National Hot Rod Association events, while racing the Ghia locally, at smaller events.
A
s we mentioned earlier, Rickie's A/MC is a 1967 steel body.
I
n fact, the racer needed all its stock weight, so Rickie has left it stock, only adding a roll bar and removing the rear seat. The dash still features its stock factory radio which still works. The speedometer was replaced with an Accel electric tachometer, and the racing belts are by Simpson. A Hurts shifter with pro handle and Lineloc is also used.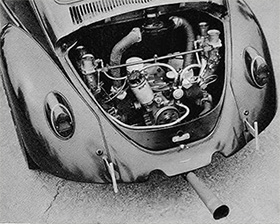 Engine features 88mm Mahle's with 78mm Gene Berg crankshaft. Magneto is by Ronco and blower type fan is used to cool things down.
R
ickie's race engine is roughly 1900cc and uses a rare set of Mahle 88mm pistons and cylinders connected by Carillo rods to a Gene Berg 78mm crankshaft. The Gene Berg crank is wedgemated to a 6 lb. flywheel which mounts a Kennedy 200mm-2500 lb. clutch. The camshaft is by Cam Dynamics and features .620.in of lift with 348° duration.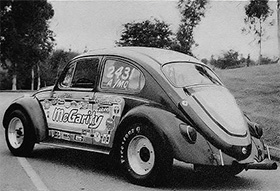 Read more on page 2...