QUICK STRIPPER!!!
Below is a very interesting article by Don EMMONS found in an old Dune Buggies & Hot VWs magazine!!!
D
une Buggies magazine this month take a look at the wild world of drag racing, on the blacktop that is. Yes, we are aware that the Purple Potato Chip is a drag racing machine, but it see very limited racing, whereas the Freeway Volkswagen was built to campaign at drag strips every week.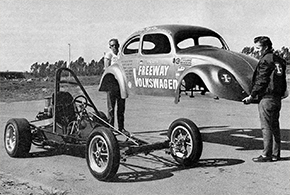 See how light the fiberglass full body was... 2 guys (Ed KNIGHT in the back) easily removing from the tube chassis while striking the pose...
T
his bug is known in drag circles as a match racer. These are cars that the track owners pair with other competition machines in 2 out of 3 matches or 3 out of 5 sets. They tour the country to race for money and to put on a good show for the many spectators drawn to the track to see a VW take on a small-sized, V8 engined dragster. It's always a crowd pleaser when a VW takes on a dragster and whips it, and the Freeway Volkswagen does just that, very handily.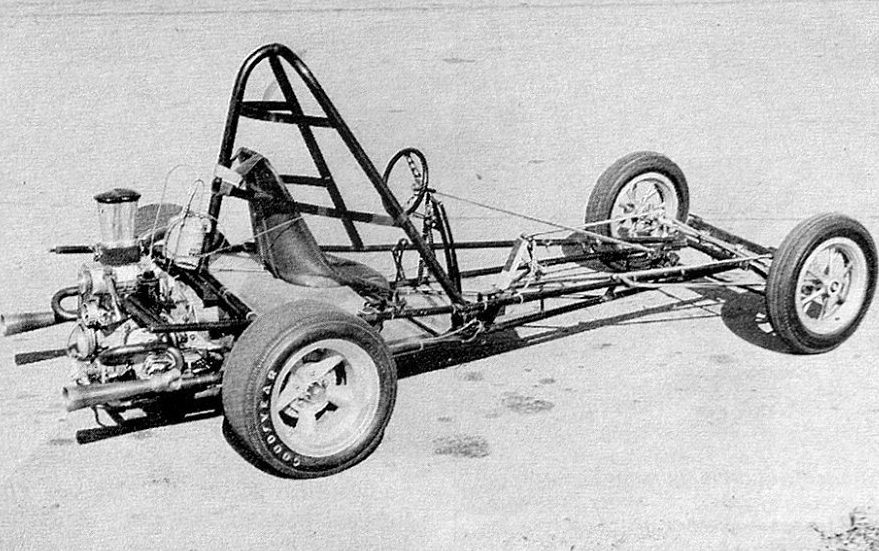 Sitting on the transaxle driver position...
T
he Freeway team believes that it has the
World Fastest Volkswagen
ans that's what it's all about - there are so many Hot VWs running the quarter mile now that spectators are beginning to really get their money's worth watching the Wolfsburg Wonders take each other on, when they're not racing bigger cars. Drivers, pit crews, and engine builders are all intensely competitive and proud of their racing equipment, and those who are out near the front have to keep a wary eye on the rear-view mirror, because there are a lot of hot shoes in hot cars that are ready, willing, and eager to dispute any claims, where it counts, on the drag strip.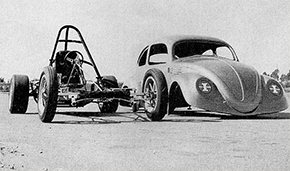 Chassis and body side by side!
T
he heart of this featherlight Bug is a 1600cc VW four-banger. KNIGHT frequently runs a heavy load (75 percent) of nitro, and he's quite aware of the fact that running this big a load doesn't do much for an engine's longetivity, so he had Iskenderian run some dyno tests. Reports are that, on alcohol, the engine put out 210 bhp at 6000. To get a better idea of where these wild ponies come from, let's start at the top.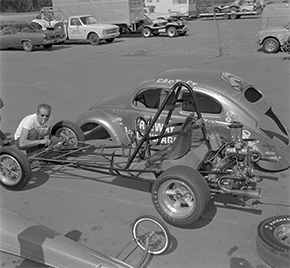 Big Ed wrenching on the front axle at OCIR! Petersen picture. Image is a thumbnail...
T
wo aluminium injector stacks feed air to the very modified Enderle injection. This unit was built up using half of a Chevy injector, and Jim Diamond spent the better part of 6 months developing the system. The neat little huffer (blower) that sits below the injector is a 3-71 GMC unit. That's right, a GMC blower; the baby brother to the 6-71 unit that big dragsters use on the Chrysler, Chevy and Ford engines. Ed has this little blower setup working 100 percent overdrive, which gives him 18 lb. of boost. They made the manifold, as there is not a great deal of demand for a GMC blower setup for a VW. Heads are the VW Variant dual-port units.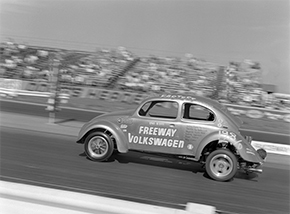 No driver race bug...
I
sky worked closely with Ed on the engine, and he uses their lifters and new Chrome-Moly push rods. The cam is an Isky V-1212 made especially for this car. After months testing, this cam has been added to Isky's line of VW cams. Ed uses stock valves and Isky springs. Jahns pistons are fitted to boxed rods and spin on a balanced 9/16 in stroker crank. Sitting under all this is an Isky dry sump oil system. A Fram dual filter setup is used to clean the oil. The megaphone headers are the work of Cyclone, and the fire to this mighty giant is from a Mallory ignition.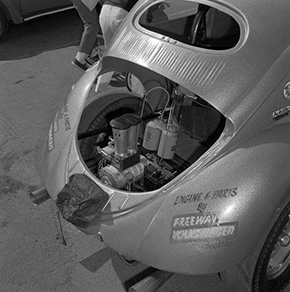 Close up view of the engine with its GMC blower and homemade manifolds. Note the lettering : Engine and Parts by Freeway Volkswagen.
T
he chassis side of the car is made from 4130 chome-moly tubing, with a wall thickness of 0.049. The roll cage is made up from 1_3/4 in. moly of 0.120 wall thickness. Don KIRBY did the torch work here, making this chassis a superlightweight unit but, we hasten to add, a strong one. The complete chassis weighs in at a mere 220 lb.
T
he steering is a modified Opel Kadett rack and pinion setup. The tubular front axle sports a large amount of weight, to keep the front wheels on the ground. The car had a tendency to do wild wheelies and, after wasting three axles, it was decided that something had to be done. Halibrand 12 spokes front wheels keep the unsprung weight down, and the American mags at the rear are fitted to a late VW transaxle, using Cragar wheels adapters. Tires are 10.35_15 Good'Year Indys.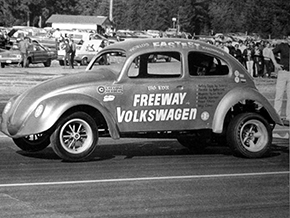 Hard launch... Unknown racetrack...
T
he Bronze metalflake body is a one-piece fiberglass item that weights just 75 lb. The body is a stock sized uniit with the stock 94 inches wheelbase. The parachute pack at the back is a Saferide safety chite, used to assist the disc brakes in stopping the fast-moving draggin' wagen.
A
nyone in the Seattle area who is interested in getting a closer look at this fantastic car should stop by the Freeway Volkswagen agency. The car frequently graces the showroom floor when it isn't smoking the tires down the drag strip.