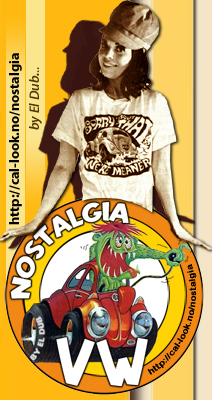 Special Thanks to :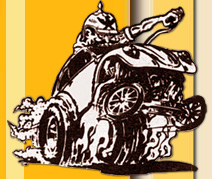 - El Dub's NOSTALGIA VW Corner -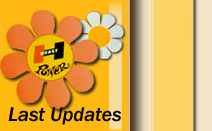 23/03/21
Freeway Volkswagen...

05/03/21
Stutt Bee updated...

05/03/21
Mad Pineapple

22/03/20
Centipede...

12/08/14
Hot Rod Industry news...

01/01/14
Schley bros...

21/10/13
Rickie Mc Garity...

28/02/13
Glass Wag'n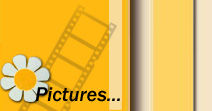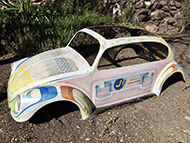 JSC Go-kart.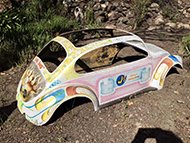 JSC Go-kart.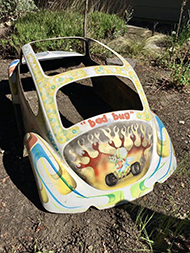 JSC Go-kart.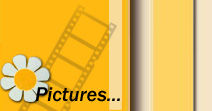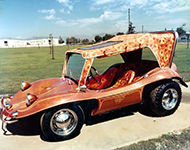 Don Haskin Bushwhacker
Dune buggy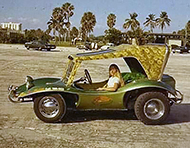 Don Haskin Bushwhacker
Dune buggy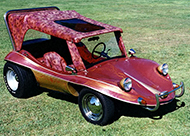 Don Haskin Bushwhacker
Dune buggy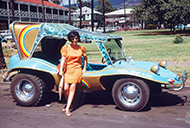 Don Haskin Bushwhacker
Dune buggy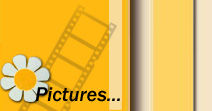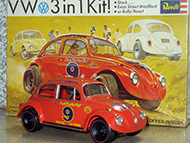 EMPI REVELL Model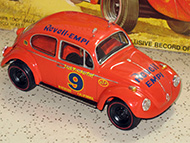 EMPI REVELL Model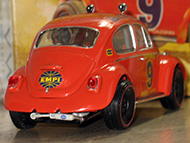 EMPI REVELL Model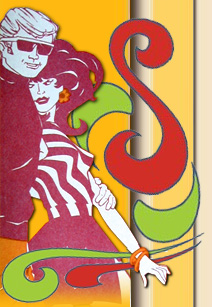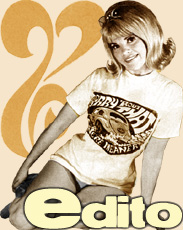 EDITO :
A
s I mentioned earlier in the previous update, I have a very good news to share with you, my french friend
Benjamin LAMOUROUX
joined and will help me keeping that Nostalgia VW side of the world wide web alive, this meaning more updates on a regular basis. The truth is I was needing somebody kicking my ass when needed... Understand very often ;-) Seems it already works as this is the second update in just one month...
M
oreover, if you are a regular on VW facebook groups, you already know that Benjamin is second to none when it comes to finding never seen before old racing VW pictures... So this is great news as far as this website is concerned... His very first contribution is devoted to a one of a kind bug racer, a very nice example of the good old days racing machinery, sponsored by
FREEWAY VOLKSWAGEN
dealership of Seattle, Washington state and owned/raced by
Big Ed KNIGHT
...
W
ell, as usual, enjoy this update and again, hope you are still safe waiting for better days to enjoy our passion and welcome to the Nostalgia Corner team
BenJ
:-)
El Dub - 23th March 2021.
NOT JUST ANOTHER NOSTALGIA CORNER EXCLUSIVE...
W

e all knows of Inch Pincher, Inch Pincher too, Inch Pincher of NY, but, honest, how many of you have already heard of another EMPI Inch Pincher? I was the very first surprised to discover pictures of that unknwown

Inch Pincher Jr

...

I

have no details except the pictures here... One thing is for sure after some research... This oval was built and campained on the H/G on Georgia dragstrips and should have raced in the late 60s. Talk about a good start... My two cents : this was a demo race car for the Georgia EMPI dealer shop.

N

ote the one of a kind BRM rims paintscheme!

I

s anybody there who knows a little more?
BIG ED KNIGHT FREEWAY VOLKSWAGEN...

ED KNIGHT FREEWAY VOLKSWAGEN...

T

here was a time when anything was possible as far as performance VW was concerned on american racetracks! We often refer at the good old days... Those times have seen many one of a kind machineries looking for the

fastest Volkswagen of the world

title...

Ed KNIGHT FREEWAY VOLKSWAGEN

bug, with his 3.5 pounds per horsepower ratio and its lighweight tube frame, helped by its full fiberglass body, was one of those crazy cars...

S

o let's have a further look at this brute VW definitely not for street use...
THE ONLINE NOSTALGIA CHAPTER...

THE MAD PINEAPPLE GASSER... Airmighty Issue #42!!!

L

et's continue to put some Airmighty Nostalgia chapters online, it's a great way to put some feeds on this corner as I'm turning lazy with age...

S

econd chapter online is devoted to an awesome Gasser : MAD PINEAPPLE from

Art SAFFELL

...

Thanks for your precious help Art :-)A

s usual, enjoy your reading as much as I did writing it!

THE REVELL INCH PINCHER Too
I
compiled the first part of the EMPI Inch Pincher story some time (ok, years ago...) and I still need to complete the race car section... But considering Inch Pincher pictures are now everywhere on the Internet, I changed my plans, and decided to add a space for a long time forgotten Inch Pincher : the Baja EMPI one.
T
his very special car doesn't catch the attention it deserve today! After all, it's a period EMPI Inch Pincher car
too
... So have a look at the section I put together and enjoy those rare pictures and facts! Only at Cal-Look.com ;)
A
s usual, enjoy your reading as much as I did compiling it!

More...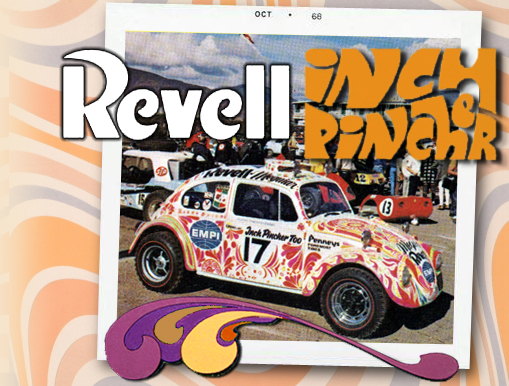 AUGUST 1968 HOT ROD INDUSTRY NEWS...
W

e all are collecting old VW magazines. We all knows of the famous VW magazines from back in the days. We also knows of the US cars magazines that sometimes focused on racing VWs on their cover... Usually, those Hot Rod, Popular Hot Rodding or Drag Racing USA are very collectible. But did you know that the great Hot Rod magazine, seeing the ever growing popularity of the little bug, made a VW special issue of its

'Industry News' called 'Small Car / Big Market'

back in 1968?

T

hat special issue is full of interesting period facts and that cover is awesome with its full custom bug and the EMPI Inch Pincher side by side. I found that uncommon magazine some years ago and thought it would be cool to share some of its contents here!

More...
T

hat Custom section is now 15 years old, and would need an update, but I thought it deserve again a frontpage appearance because it seems that period Customs VWs will be a big hit in the next years...

B

TW, don't miss the special Facebook Group I opened a while back :

THE GOLDEN AGE OF CUSTOM VW

with 1000+ members and counting...

D

on't be shy : join that 70s Custom group now and open your mind!!!

N

ext update : Customs 70s : Mild, Traditional, Wild...

More...
INSTANT POWER EMPI PANEL BUS...




We all know of the famous EMPI red tow pick-up truck but the company also had a very very cool looking early panel bus.

Pictures of that panel are not common and I have no specific information on that one, even if Chris MORLEY did a repro one painted by Mc PEAK in the early 2000, now residing in UK...

Anyway, the bus looked soooooo 70s with it bright orange and whithe paintscheme ...



MARK & PAUL SCHLEY :

I

f some of you missed issue #11 of the great Airmighty magazine (shame on you...), here is your chance to read the first part of the interview of

Mark & Paul SCHLEY

I made earlier this year for the magazine, along with some never seen before pictures coming from the SCHLEY private collection only for your viewing pleasure, as usual.

E

njoy your reading as the story reveals unknown facts and memories and don't forget to share where you read it.

Btw, if you want to enjoy it everywhere and support our hobby, order your hi-class paper issue at

www.airmighty.com/

.

More...
GLASS WAG'N STORY :



A

nother Old Racers section...

W

e all know the most famous VW racers from the 60s and 70s in every details. We also have high respect for their builder & driver... Those guys were pioneers for us all... But some very early cars & owners are still unknown... Take the

Glass Wag'n

for example...

O

f course, it's a one of a kind bug because of its all fiberglass body and we already all found pictures on the Internet, but how many are aware of the interesting story behind?

More...

HERE COMES DA BUG!!!



A

t least... At least... After a way too long wait, that

ANDERSON Bros

section is now online! Such a tribute should have been made many years ago as

Here Comes Da Bug

was one of the most successful gassers back in the days, but I was needing more material to make an informative section.

Rick & Ron

themselves were sooo enthusiastic about my plans that I just kicked up my ass one more time and here it is : the very first part of that legendary gasser history!

E

njoy it and THANKS R&R ANDERSON!

Y

ou are OUR heroes!

More...

THE STUTT BEE BUG!!!



A

nother Old Racers section...

T

he Stutt Bee section hit the mainpage again... This is great news as

Audley CAMPBELL

bee still is one of my all-time fav early gasser...

I

f you didn't visited it before, here is your chance to read the full story behind the very first Stutt Bee, with some added pictures to feed the regular visitor of this website...

S

pread the word : only on the Nostalgia corner!

More...

SERVICE IS OUR KEY WORD...

"Joe VITTONE cordially invites you to test drive the new EMPI GTV at his fabulous VW-Porsche dealership in Riverside. One of the world largest VW dealership , Economotors, offer 6 acres of sales/services facilities, more than 250 new/used cars, plus a complete selection of 'show and go goodies'. Stop by today. Drive the EMPI GTV - the new 'mod rod'!".MANY THANKS to my Japanese friend Akihiro ARAI

for that rare postcard from his personal archives.

BEHIND THE SCENE... Here we have some pictures that Eric RICKMAN took at Economotors that day for a complete article in a 1967 issue of Hot Rod magazine by Feature Editor Eric DAHLQUIST... DAHLQUIST, kneeling in front the MK IV GTV on the picture, described it this way: 'Driven in the door of the EMPI telephone booth, a mild-mannered transporter becomes a glistening, pin-striped, wide-ovaled, mag-wheeled, wood-dashed, stereo-radio tape-decked, power-mad Mr. Terrific, who can foil mean old Porsches in a single bound, or something like that.''


| | |
| --- | --- |
| | 'The humble, unaffected Beetle is the wave of the future' DAHLQUIST said. As it turned out, so was Economotors. Not only was Vittone pioneering the promotion and sale of VW aftermarket parts, but his dealership was also part of an innovative concept in auto retailing. |
I thought it might be a good idea to keep you posted 'bout what's coming in next few... months......

Have good sleepings now... LOL!!!

70s CUSTOM : Mild Paintjob Special...

70s CUSTOM : Mild, Traditional, Wild!!!

OLD RACERS : John PRESTON Wunderbug!


---
Copyright 2000 - 2021 El Dub - All Rights reserved.

E-mail : eldub@cal-look.com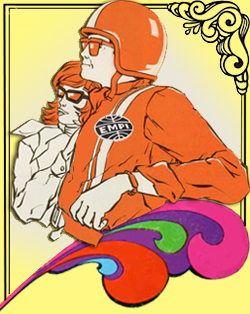 A FRENCH TRIBUTE
TO THE PIONNEERS OF VW DRAG RACING
---



- EMPI SPECIAL COLUMN -
EMPI BOOTH AT SEMA SHOW...

W
e all heard of the famous SEMA (Specialty Equipment Market Association) show held every year since 1967 earlier in Los Angeles and now in Las Vegas for some deacades which is the biggest trade show joined by hundreds of manufacturers, suppliers, and designers, and associated companies of nearly every size and description.
B
ack in the days, it's no surprise that a performance brand like EMPI would attend such a show but evidences were impossible to find until the Petersen archives pictures appeared... So here are some period pictures of the EMPI booth from the late 60s/early 70s.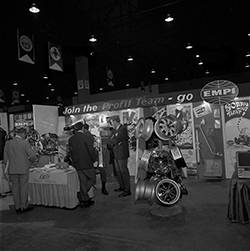 Join the profit team - Go EMPI - 1969 booth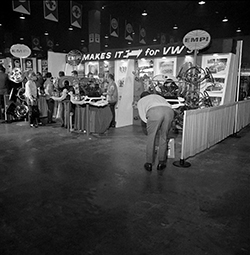 EMPI makes it for VW - 1970 booth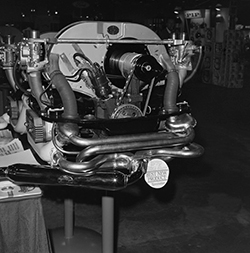 SEMA Show 1970 - Best Product Nomination for the EMPI exhaust header...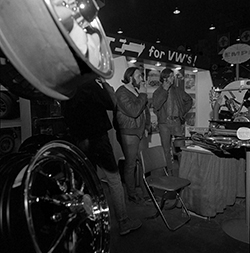 SEMA Show 1970 - Some smokin' guys...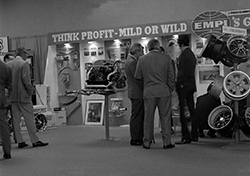 Think profit - Mild or Wild - 1971 booth
EMPI MISS AT SEMA SHOW...

W
e all love the EMPI chicks appearing in the old catalogs... Enjoy this one at the 1970 SEMA Show? I wonder where is this vintage EMPI bikini right now...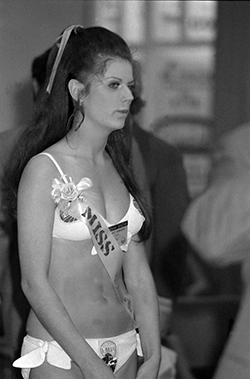 Miss EMPI SEMA - 1970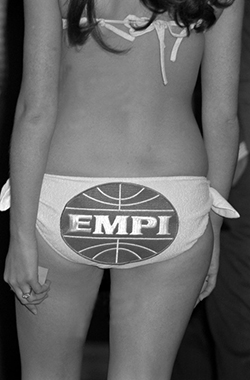 Miss EMPI SEMA - 1970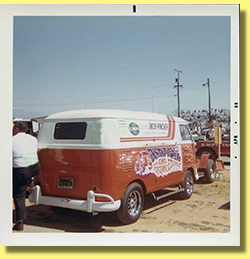 Above one is by far the best picture because of the bright colors. Early panels buses with rounded arches and fat rear tires looks soooo 70s...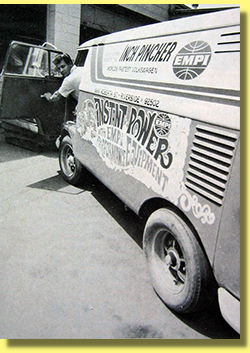 B&W picture that appeared on the EMPI story in an early 70s Hot VWs magazine. Wondering who is this guy behind the wheel...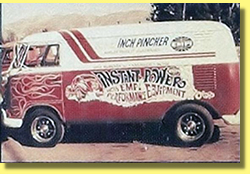 That side picture show the flaming on the front and the famous EMPI sprint stars rims...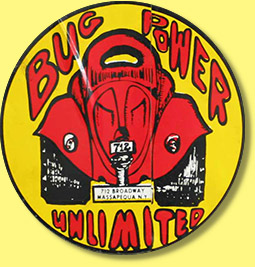 J
ust some more pictures about the
BUG POWER UNLIMITED
shop of
Joe ARAGONA
from MASSAPEQUA, NY and his way cool Mini Funi gasser...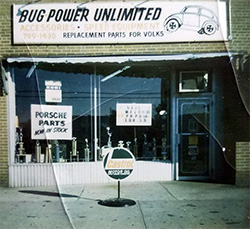 Very cool pic of the Bug Power shop...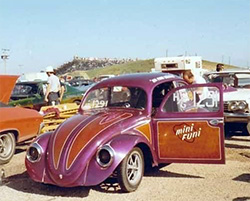 Pearlescent paintscheme looked outstanding in the sun...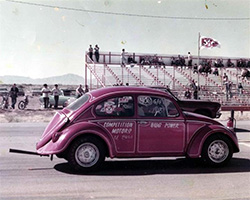 Early Bug Power Mini Funi???